Top 10 Vampire Movies
The vampire is the monster with the longest literary heritage, with the first story,
The Vampyre
, written by John Polidori at the same 'writer's retreat' at which Mary Wollstonecraft Shelley penned
Frankenstein: The Modern Prometheus
. Probably the most famous novel was by the Irish writer Bram Stoker, whose book
Dracula
is arguably the most important Gothic horror novel of all time. Another writer, J Sheridan Fanu, gave birth to the lesbian vampire, Carmilla, which was the inspiration to such films as Carl Dreyer's
Vampyr
(1932) and the 'Karnstein Trilogy':
The Vampire Lovers
(1970),
Lust for a Vampire
(1971) and
Twins of Evil
(1971), plus the unrelated
Vampyros Lesbos
, directed by Jess Franco , also in 1971. There was also a great episode of the Steve Coogan comedy show
Dr Terrible's House of Horrible
called 'Lesbian Vampires Lovers of Lust' which was fantastic parody on all of these 1970s lesbian vampire movies.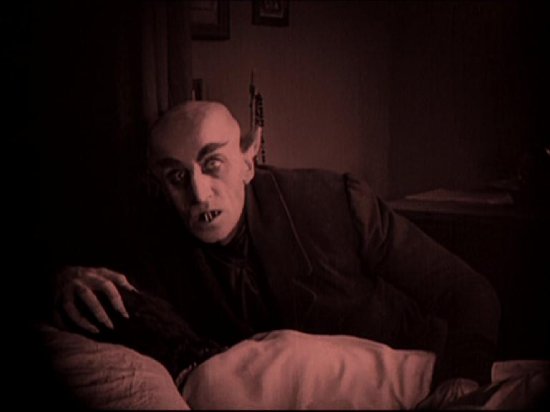 Dracula
has proven itself to be a novel that, like its subject, simply won't age and is still being adapted into films to this day; by my reckoning there are over 100 films that have been based on Stoker's novel and its main character which is quite an achievement. The vampire has become such a big part of popular culture that just about any child could draw you a picture of vampire even if they haven't read a vampire book or seen one of the more famous films (they are most likely to have seen Uli Edel's film
The Little Vampire
or read one of Angela Sommer Bodenburg's books on which the film was based). I remember going to a Halloween party when I was about 10 years old dressed and made up into what I thought a vampire looked like -- it was remarkably similar to Christopher Lee's Count from his many
Dracula
films. Just about everyone knows the whole vampire mythology: how one becomes a vampire, how vampires can be killed and how vampires live. You don't have to be an expert on vampire lore to know all this, it's just part of popular culture and something that seeps into your subconscious whether you like it or not. Vampire films have also proved to be extremely adept at reinventing themselves and there seems to be a new set of vampire films for every new generation, how else would you explain the
Twilight
series of films and books that appeal to teenage girls are middle-aged women alike? I can't stand these and I doubt that you would be surprised to discover that none of the
Twilight
films have made it onto this list. I prefer my vampire films to be great deal more bloody, atmospheric and well acted.
10. From Dusk Till Dawn (1996)
From a story by Robert Kurtzman (one of the founder members of the KNB effects team) and written for the screen by Quentin Tarantino, this Robert Rodriguez directed movie isn't your typical vampire flick as it involves a couple of convicts on the run, who hijack a camper van to try and make their escape into Mexico. When they are making good enough time to meet their contact, they decide to seek refuge in a strip joint which Cheers, unbeknownst to them, run by vampires.
This is quite clearly a film that was written by a film fan for film fans and almost specifically designed so that the cast and crew would have an absolute whale of a time making it. I would imagine that most of the cast are friends; certainly Tarantino and works with Harvey Keitel before and it is highly likely that people like Fred Williamson, Cheech Marin and Tom Savini were cast because of who they are, rather than because of any great thespian talent! That's not to say that these people can't act but, watching this, I got the impression that Rodriguez and Tarantino had basically sat down and tossed around names of people laid like to work with so that why you get Cheech and Chong, blaxploitation legend Fred Williamson, SFX make-up expert and horror icon Tom Savini in with Harvey Keitel, Juliette Lewis and Selma Hayek. Whilst this isn't the greatest film ever made, it is an absolute riot and a great party film. The effects are good, there are some fairly high adrenaline scenes and Salma Hayek does a terrific pole dance with a snake and the end result is a fun film with plenty of in jokes that looks like it was a joy to make.
9. Bram Stoker's Dracula (1992)
One of the two big budget vampire movies released in 1992, this saw Francis Ford Coppola going back to the roots of Stoker's novel and making, as he saw it, the most faithful adaptation of one of the most highly influential books ever written. Beginning with a prologue that isn't in the original text but is part of the Dracula legend, the film depicts how a knight, loyal to the church, goes out to fight Islamic Turkish invaders who sent word to his wife that he has been killed in battle and, distraught, she kills herself. When Vlad Draculea is told that she will, as a suicide, be damned for eternity, he turned his back on the church and declares himself to be immortal.
This was a film that was quite strangely marketed as it tended to dwell on the romantic aspect of this story, with Prince Vlad finding the doppelgänger for his long-lost love in the form of Mina Murray and, having already turned her best friend into a vampire, sets his sights on Mina. Coppola certainly plays up Dracula as a tragic figure who has been looking for his beloved Elizabeta for centuries and, when he finds her, he doesn't want to lose her. The film does suffer from Keanu Reeves' wooden acting and Anthony Hopkins hamming it up but it is extremely well directed, is very faithful to Stoker's novel and has terrific production design, set decoration and costumes. Undeniably flawed, but extremely watchable with Gary Oldman as an extremely memorable screen Dracula who really dominates every scene in which he appears.
8. Interview with the Vampire (1992)
Anne Rice has written a great number of vampire novels (The Vampire Chronicles) and was constantly being approached to have them turned into big screen adaptations, offers she constantly declined. It wasn't until the early 1990s when Neil Jordan was on board to direct that she actually agreed to the first of the books being turned into a film and she wrote the screenplay herself. As a Testament to the quality of the film, Anne Rice has given this her stamp of approval, saying that she liked what Jordan did with her screenplay. As with
Bram Stoker's Dracula
, the other big budget vampire film of 1992, this plays on vampire suffering and the romanticism that goes with vampirism. It also helps that the two main vampires were played by Brad Pitt and Tom Cruise so many female viewers would have no problem is in seeing Brad Pitt's Louis as a tortured soul.
This isn't a film that dwells on how terrible it is to be a vampire as you have Lestat as the flipside to Louis, a man who revels in his power and ability to take life whenever he feels like it without remorse or any physical difficulty. I imagine this is a movie that splits the audience right up the middle into those that side with Louis (and Claudia, brilliantly played by a very Kirsten Dunst) and those who root for Lestat. I'm firmly in the latter category as, although I see that immortality will probably get quite boring, it is what you make of it and Lestat certainly knows how to have a good time. A 'what if?' movie comes along every so often and this is one of them as River Phoenix was due to play the journalist before he tragically died and I just wonder how different the film would have been if he is played the role that Christian Slater eventually took on. Interview with the vampire has just about everything you'd want from a vampire movie: plenty of people being quickly dispatched, a vampire who has absolutely no problem with killing for food and another who would rather live on rats than kill human beings, a child vampire who introduces another dilemma into the immortality quagmire (at what age would you like to be immortal?), gallons of blood fantastic death scenes, excellent performances from all involved and Guns n' Roses' fine cover of the Rolling Stones' Sympathy for the Devil playing over the end credits.
7. Near Dark (1987)
You occasionally get a year when two similarly themed films come out at roughly the same time and what goes on to become a massive hit and he is on sinks into relative obscurity. This happened in 1999 with The Matrix and Dark City, when the Wachowski's film hit all the right buttons and became part of the zeitgeist whereas Alex Proyas' dark dystopian film in which a man can change the way the world is run practically vanished without a trace and has only been sustained thanks to a pretty formidable cult following and some champions like Roger Ebert. This was just about the case for
Near Dark
which went up against Joel Schumacher's
The Lost Boys
in a box office slugfest and lost. Badly. As a vampire movie from action director Kathryn Bigelow (
Point Break
;
Blue Steel
), it does have some of the action aesthetic that you would expect from a Bigelow film but it is also a love story with a whole host of bizarre characters.
Taking most of the cast from
Aliens
, a film directed by James Cameron, the man she would marry two years later, the film shows what happens to an immortal gang of outlaws as they live in the dark, travelling around in a van with blacked out windows during the daylight (when they're not sleeping) and finding food when they can. Reuniting Lance Henriksen, Bill Paxton and Jenette Goldstein (which is one reason why the gang seem so close-knit), the film also introduces Adrian Pasdar and Jenny Wright who become a couple where Mae (Wright) falls in love with farmboy Caleb and turns him into a vampire so they can be together forever. However, Caleb's father is after the gang and Caleb doesn't particularly want to be a vampire which leads to the other way they can be together: turn Mae back into a human.
Although I have a soft spot for
The Lost Boys
, I don't think it's as good a film as
Near Dark
which works on so many levels with fantastic characters and great acting by a bunch of actors who clearly enjoy each other's company. This is a vastly underrated vampire movie and it's quite funny to watch it now with a very young Adrian Pasdar, now an instantly recognisable actor thanks to
Heroes
. It is a film with real heart and one that I never grow tired of watching.
6. Let the Right One In (2009)
This Swedish film arrived in the UK with somewhat of a high reputation and I went to see it at the cinema with high expectations which it met and then some. I thought it was a terrific film then, but the Blu-ray Disc, watched it, loved it again, return the disc to Momentum (thanks to a printing error which saw the BDs only encoded with the standard def DTS track) and then watched it again, this time with high def sound. It is a remarkable film that manages to not be a lot of things but also be on the same time. It's not quite a vampire movie as it's not purely about vampirism, it's not a horror film as there isn't that much horror and it is quite a coming-of-age film either, as the characters don't really come of age. However, all that being said, if you how to apply any terms to Let the Right One in, they would be that it was a horror film, a vampire movie and a coming--of-age film! It works so well at being what it isn't, that I can't imagine it being done in a different way and improving.
As the best film of 2009, I think it is a modern-day masterpiece but is also a film I like a great deal and feel like watching again tonight. I have just started the book and it is a fantastic read so far. There is something about foreign films that distances you from them as through is that language barrier which forces you to rely on subtitles for the bulk of the material so you are reliant on the actors to draw you in with the way they enunciated their lines and portray their characters. I'm not sure what it is, but I think part of the reason this works is because it is in a foreign language and although it is superbly director, skilfully written and acted with great aplomb by the two young leads, there is something about its 'Swedish-ness' is that gives it an otherworldly look, something which is aided by the period setting. There is an English-language remake in the works, but it will really have to be something extremely special to be better than the original.
5. Martin (1977)
Although George A. Romero will be known to most as the Godfather of zombie films, the man responsible for
Night of the Living Dead
,
Dawn of the Dead
and
Day of the Dead
, he also made many other films in different aspects of the horror and science fiction genres such as
The Crazies
,
Hungry Wives
(aka
Season of the Witch
) and
Martin
. The latter of these films was Romero's only foray into the vampire genre and is a very atypical genre film. It begins when the titular teenager travels from Indianapolis to Pittsburgh where he is going to meet his elderly cousin who is, like Martin, convinced that he is a vampire and wants to save his soul before destroying him. Martin is a strange loner who only meets people because he has to work for his uncle delivering groceries and, because he has no one to confide in, phones up a late-night talk-show as 'The Count' to talk about what life is like as a vampire.
Romero had made more accomplished film than this and would go on to make more accomplished film than this but Martin stands up as one of his most technically brilliant movies with some superlative editing and quite brilliant score by Donald Rubenstein. Just about every member of the cast would fit into the 'novice' category as they had very little experience of making feature films and John Amplas, who plays Martin, was making his feature film debut. The cast also included people like Christine Forrest (who would later become Mrs Romero) and Tom Savini who also did the SFX make-up and stunts. On paper, there is almost no reason why Martin should be one of Romero's best films, but it is and he had such a great time making the movie that it remains his favourite film to this day. It is also one of my favourite vampire movies and is, like just about every film on this list, one that I will never grow tired of watching -- I watched it three times last week in order to review the new Arrow Video release and could quite easily put it on tonight and not get bored during the 90 minute running time.
4. Dracula (1931)
The film that introduced mainstream America to the vampire movie follows a successful stage show which apparently caused people to faint in the theatres when the rubber bats came swooping through a window onto the stage near the audience. My, how times have changed! This was also made when sound pictures, or 'talkies', were in their infancy and this shows sometimes as the film is a little stagey and wooden as microphones weren't what they are now so actors had to stay very close to the sound source when delivering their lines. In order to guarantee that they will get their money back, Universal, with pioneering producer Carl Laemmle Jr., allowed to Spanish crew to shoot when the American crew were busy doing other things, like sleeping, so the sets were constantly in use with Tod Browning and his crew shooting through the day and George Melford and his cast and crew filming at night to make
Drácula
(a film which is arguably technically superior).
George Melford may have had little bit more technical know-how than Tod Browning, but he didn't have Béla Lugosi who is, for many,
the
iconic Dracula. Lugosi was so identified with Dracula that he basically made his entire career out of playing the Count over and over again in different films for Universal (such as
Son of Frankenstein
, 1939) and many people just know him as Dracula, not realising that he made many other films playing different roles (my favourite of his, aside from
Plan 9 from Outer Space
, is
The Raven
(1935) which has one of the most sadistic scenes ever filmed. Just as Lugosi never fully escaped Dracula, Boris Karloff never really got to demonstrate what a great actor he was and the two of them appeared together in no fewer than six films over a twelve year period.
It may be stagey, it may be a little (or more than a little) dated, but I really like this movie as it is such an iconic piece of cinema and I don't even mind the liberties taken with the source material and that names have been mixed up and characters swapped around. Dracula is one of the finest films of the early sound era, one of the greatest of all vampire movies and the film that created a legend in Béla Lugosi.
3. Cronos (1993)
Guillermo del Toro may be a major force in world cinema now, able to lift a film from relative obscurity just by having his name attached to it, and in a position to spend two years on pre-production on what will likely be a terrific piece of fantasy cinema before deciding to walk away and make a film from scratch but years ago he was just another obscure director making obscure films. One of these, his first, was Cronos, a unique and dazzling take on the vampire mythos which sees an old man, an antiques dealer, come into contact with the Cronos device which he unwittingly activates and it turns him from an everyday businessman and doting grandfather into a creature that looks younger every day but it does cause a craving for human blood to the extent that he would lick it off a public bathroom floor.
I suppose I was lucky to have caught del Toro's career right at the beginning, albeit nearly a decade after it began, and just about watched his films in chronological order starting with Cronos. I thought that this film was extraordinary, a remarkable visual feast with a terrific performance by Frederico Luppi at its centre and with wonderful supporting performances by Ron Perlman and Tamara Shanath. Del Toro always seems to put children at the centre of his films and this is no exception as Aurora has to move from being a dependent to looking after her grandfather as he stumbled across the same device that an elderly, powerful man, De La Guardia has been spending many years, and much money, searching for.
Cronos struck me as the work of a visionary genius but it wasn't until I saw The Devil's Backbone that I realised just how special Guillermo del Toro was as a filmmaker and he surpassed himself with Pan's Labyrinth which is still his best film to date. Chronos always have a special place as it was the first film of his that I saw and one that, although I haven't seen it as many times as some other films on this list, has stayed with me like few films do and that is why you like it so much.
2. Dracula (1958)
Arguably the crowning jewel in all of Hammer's production and one of the finest British films of the past 60 years, this version of the Dracula story is quite far removed from Bram Stoker's original book but, what it lacks in authenticity, it makes up for in blood, production values and perhaps the most memorable Count Dracula ever committed to celluloid -- and that includes Béla Lugosi. Just as Lugosi played the Count in numerous other movies, Christopher Lee continued to don the black cape and elongated canines for film after film in films of various quality and invention. From the sublime (
Dracula
, 1958) to the ridiculous (
Dracula A.D. 1972
, 1972), Christopher Lee was (and still is to many people) Dracula as he embodied the power, attraction and commanding presence that Dracula should have.
Beautifully directed by Terrence Fisher and with a script to showcase everything that Hammer wanted to do with their
Dracula
, this film really set the bar for all future screen versions of the story as it was the first to feature a Dracula with elongated canines; even Lugosi's Dracula has perfectly normal teeth and you never see him bite one of his victims as he always surrounded them with his cape. Hammer clearly wanted to move away from Tod Browning's
Dracula
and make a film that would appeal to the burgeoning horror film audience in late 1950s Britain. What they did was to create an extremely memorable Dracula, some scantily clad women for him to have in his thrall and to show the Count biting his victims. In addition, what this film did brilliantly was to realise that Dracula really needed a nemesis and, in Peter Cushing, they found one that was absolutely perfect.
I've seen this film on DVD many times so was overjoyed when it was given an 'one night only' cinema showing which was brilliant as I'd never seen the film looking so good and it was even better to watch it with an audience who appreciated it as much as I did that on my own. It is still a film that I will revisit and writing this makes me want to watch it now! British cinema is responsible for some truly great movies and, although critics may not class
Dracula
as 'truly great', it is still a remarkable film and one of the finest horror movies ever made on these shores.
1. Nosferatu, eine Symphonie des Grauens (1922)
There are some films that you actively seek out because you've heard so much about and others that you stumble across quite at random whilst channel hopping or because you've accidentally recorded the wrong movie from television. This was a little in the 'random' category as I was in the stage of getting into horror films and buying up all the ones that the BBFC were re-releasing in 1999 and 2000. It was my birthday (my 21st, if I remember correctly) and, amongst the presents my parents bought me was this on DVD. I remember them saying it was a choice between this or Snatch and, although I really didn't think much of Guy Ritchie's film, I did wonder if I would have preferred that and thanked my mum and dad saying "I don't know if I'll watch this very much" (or words to that effect). How little I knew them!
Over the past few years -- nearly a decade now -- I've not only watched Nosferatu a few times, but many times both on the original Eureka Video release, but on the subsequent Masters of Cinema release as well. I don't think any actor has come close to Stoker's vision of a hideous, animalistic and rodent-like figure than Max Schreck. Although there have been numerous adaptations of
Dracula
and many actors who have played the Count, from Béla Lugosi to Christopher Lee and Frank Langella, none of them have captured the essence of the great vampire as a disease ridden predator as Schreck did. The brilliant expressionistic photography by F.W. Murnau adds to the otherworldly settings with some superb location shooting and remarkable set designs. The more I watch this film, the more I appreciate Murnau's technical wizardry and the great cinematography which is beautifully illustrated by the scene in which Count Orlock climbs the stairs to Ellen's room and turns the handle on her bedroom door with only his shadow visible.
Although Werner Hertzog would direct a commendable remake in 1979 with Klaus Kinski in the title role and featuring some remarkable set pieces, such as the coffin bearing townsfolk moving through the streets, it doesn't have the atmosphere of Murnau's film which is, nearly 90 years since it was made, the finest vampire film ever made and my personal favourite.
Honourable mentions go to:
The Hunger
Blade
The Lost Boys
Shadow of the Vampire
Nosferatu: The Vampyre (1979)
30 Days of Night
Vampyr
Thirst