The Statue out on DVD in June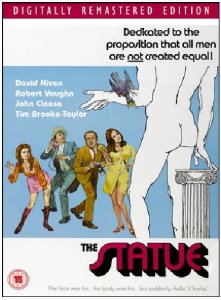 First ever UK DVD release of this classic 70's bawdy comedy.
Starring David Niven (The Pink Panther), Robert Vaughan (The Man From Uncle) & John Cleese (Fawlty Towers).
Brand new widescreen anamorphic Transfer with original mono audio.
SYNOPSIS
Alex Bolt (David Niven) is a British linguist who develops a universal language, called UNISPEAK, to try and achieve world peace and harmony. Overnight he is the most famous man on Earth and he receives a Nobel prize for his achievement. Meanwhile an ambitious US diplomat (Robert Vaughn) is trying to capitalise on his celebrity by commissioning a statue to be placed in Trafalgar Square to honour Bolt.
Bolt's Italian wife, a renowned artist, sculpts an 18-foot nude, but because he's neglected her for years developing UNISPEAK she gives the statue a spectacular penis that definitely isn't his... Believing his wife has cheated, Bolt goes on a jealous search for a man with a matching phallus. Can art and love reconcile?
Title:
The Statue
Release Date:
07/06/10
Cat No:
ODNF176
Barcode:
5060082514128
Cert:
TBC
Running Time:
90 Minutes