Suddenly Last Winter out on DVD in June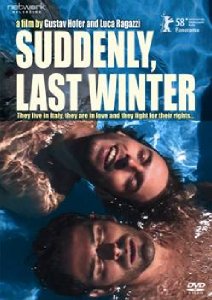 SUDDENLY, LAST WINTER (E)
Acclaimed documentary SUDDENLY, LAST WINTER is available to rent and buy on 7th June 2010, RRP £12.99 courtesy of Network Releasing. This is a critically acclaimed, intelligent documentary that delves into the shocking truth of contemporary Italy's sexual intolerance.
Courtesy of Network Releasing, The Gay and Lesbian Humanist Association has announced an exclusive screening of the film on the evening of May 16th as part of the 'Protest the Pope' campaign and to mark the International Day against Homophobia and Transphobia (IDAHO) . The directors of the film, Gustav Hofer and Luca Ragazzi, will be present at the event and will talk about their experience of making the film.
In February 2007, the shared private life of Gustav Hofer and Luca Ragazzi was turned upside down: the Italian government had presented a draft law that acknowledged the legal rights of unmarried and gay couples, prompting a tidal wave of ferocious homophobia throughout Italy. The Vatican and the conservatives challenged the legalisation of civil unions, insisting that the end of morality and "family" would be the inevitable outcome should homosexuality be tolerated and further indulged.
Partners for more than eight years, Gustav and Luca attempted to understand the different arguments for and against the law. Camera in hand, they undertook a journey into a country they did not know and did not expect to find - their very own. The resulting documentary shows what they learned on the way featuring interviews with passersby, religious figures, conservative and liberal politicians, in addition to protesters on both sides.
SUDDENLY LAST WINTER is a personal, moving, humorous, courageous and frequently shocking portrait of the intolerance of a country that most people might have felt that they knew. Released to great acclaim in 2008, this film garnered numerous awards include Best Documentary from the Italian National Syndicate of Film Journalists, Best Documentary at the Milan International Lesbian and Gay Film Festival and Panorama Jury Special mention at the 58th Berlin International Film Festival.
***END***
NOTES TO EDITORS
SUDDENLY, LAST WINTER (E) is available from Network Releasing (www.networkreleasing.com)
Release Date: 7th June 2010
RRP: £12.99 each
Running Time: 80 minutes approx.
Screen Ratio: TBC
No. of disc: 1
Cat. No.: 7953316