Documentary Swastika out in September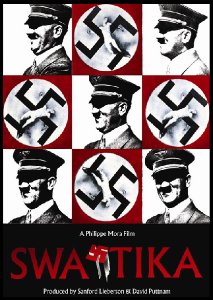 First ever European DVD Release of this astonishing and much sought after Hitler documentary feature.
Produced by Lord David Puttnam (

Chariots of Fire, Bugsy Malone, The Killing Fields

).
Released to co-incide with the 70th anniversary of the outbreak of WW2.
Over 80 Minutes of Special Features including contributions from the Director and Producers.
Synopsis
Swastika is the most controversial documentary about Hitler and the Nazi's ever made. Using propaganda footage and colour home movies made by Hitler's fiancée Eva Braun, Swastika portrays the human side of Adolf Hitler. That a man can orchestrate the Holocaust and yet still enjoy passing the time on a sun lounger makes Hitler more real, and more chilling. Told exclusively through archive footage Swastika leaves you to draw your own conclusions about Hitler. man or monster.
Special Features (Total Running Time 81 Minutes) 
Historian Introduction - Swastika Revisited -
Interview with producer Sanford Lieberson -
Ludovic Kennedy Interviews Albert Speer -
Colour Film in Nazi Germany - Leni Reifenstahl Revisited -
Manipulation & Nazi Propaganda