Britain's Got the Pop Factor out in September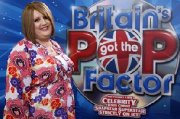 Peter Kay's Britain's Got the Pop Factor and Possibly a New Celebrity Jesus Christ Soapstar Superstar Strictly on Ice
Released exclusively by 4DVD on Monday 28th September 2009
"A pure delight" - The Guardian
"A stroke of comic genius" - The Independent
 "This hilarious satire of reality TV was perfect from start to finish" - Daily Record
"Peter Kay
is back with an affectionate spoof of reality talent shows" - The Observer
.
Comedy genius Peter Kay is back with his hilarious reality TV parody
Peter Kay's
Britain's Got the Pop Factor and Possibly a New Celebrity Jesus Christ Soapstar Superstar Strictly on Ice
, available to own on DVD on
Monday 28th September
courtesy of
4DVD.
This was Peter Kay's first original show for over four years, and pulled in a massive 7.1 million viewers - making it one of Channel 4's highest rated shows of all time. Winner of 'Best Comedy Performance' at the RTS Awards - describing it as
"brilliantly visually realised, and a perfect parody of the genre";
the series also received 'Best British Comedy Television Programme' award from BAFTA/LA and the 'Best Music / Variety Program' at the Banff World Television awards. 
Written by and starring Peter Kay, his latest talent-show spoof centres on
Geraldine McQueen
(Kay), who hopes to make the big-time via a reality TV show. As the acts drop out one by one, we learn more about the finalists including a shocking secret that Geraldine was previously a man called Gerry King! Hosted by
Cat Deeley
, other finalists include
R Wayne
who is resurrected to perform in the show after his Grandmother dies when she discovers he has been voted out of the show. There's also the half paraplegic finalists
2 Up 2 Down
, who have managed to make it to the final despite their hilarious back catalogue of personal tragedies.
In an ironic twist, original talent show judges
Nicki Chapman
,
Pete Waterman
and
Neil Fox
preside over the competition proceedings, casting their expert eyes over the finalists before deciding who has enough pop factor to sing
'The Winners Song'.
In true reflection of reality shows, Kay features a number of celebrity mentors who each offer their musical advice to the contestants including:
Paul McCartney, Rick Astley, Ricky Wilson (Kaiser Chefs)
and the late
Michael Jackson
Kay captures the real reasons behind the nation's passion for talent shows by exaggerating all of the highs and lows, plus the best of back-stabbing, bitchiness and emotional stories. Kay affectionately pokes fun at all things reality with the witty tongue-in-cheek banter we've come to expect and love. 
The DVD includes
Peter Kay's Britain's Got the Pop Factor and Possibly a New Celebrity Jesus Christ Soapstar Superstar Strictly on Ice
main show and results show, and
Peter Kay's
Britain's Got an Extra Pop Factor and Then Some
, the hour-long winner's story. It also features five TV trailers exclusive to this DVD. 
The DVD also features the videos of Geraldine McQueen's two chart topping successes written and performed by Peter Kay and the award-winning member of Take That, Gary Barlow -
Once Upon A Christmas Song
and
The Winners Song
which in rare case of art imitating life actually went on to beat real X-Factor winner Leon Jackson to the top of the singles chart. 
The DVD is
available to buy on
28th September
courtesy of
4DVD.
Notes to Editors:
Multi-award winning comedian Kay became a household name with the BAFTA-winning series '
Phoenix Nights
' and '
That Peter Kay Thing'
. Following this he teamed up with fellow Phoenix Nights actor Patrick McGuiness to create the internationally award winning spin off
'Max and Paddy's Road to Nowhere'
, which saw the dynamic duo escape their life in Bolton in a motorised home. 
In addition to his much-loved TV shows, Peter Kay is also one of the UK's most successful stand-up comedians with his DVD's
Live at the
Top of the Tower, Live at the Bolton Albert Hall
the latter of which
still holds the record as the biggest selling British stand-up DVD of all time. 
Collectively all of Peter's DVDs (stand-up & TV series), have sold over 10 million units and his autobiography The Sound Of Laughter is also the biggest selling autobiography in Britain. He also had the biggest selling single of 2005 with his chart topping collaboration with veteran crooner Tony Christie, 'Is This the Way to Amarillo' raised over 1.5 million for Comic Relief.
Peter Kay's Britain's Got the Pop Factor and Possibly a New Celebrity Jesus Christ Soapstar Superstar Strictly On Ice details:
Released:             
28th September 2009
Price:                     
£19.99                                                             
Discs:                     
1
Running time:     
120 mins
Cert:                      
TBC       
Cat No:                 
C4DVD10314