Psychological thriller Coffin Rock out in December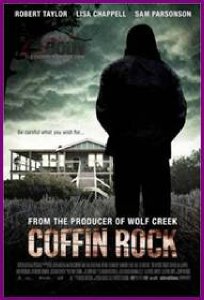 COFFIN ROCK
Released on DVD 28th December 2009
Written & Directed by
Rupert Glasson
Starring
Robert Taylor, Lisa Chappell
& Sam Parsonson
From the producer of "WOLF CREEK"
Coffin Rock is directed by
Rupert Glasson
(
Real Thing
) and is from the producer of the 2005 hit
Wolf Creek
.
Robert Taylor
(
Ned Kelly
) stars alongside
Lisa Chappell
(
Stingers
) and upcoming Australian actor
Sam Parsonson
(
Double Trouble
). The film was shot on location in South Australia and Premiered in the UK at Frightfest 2009. 
SYNOPSIS
This tense psychological thriller tells the story of a woman unable to conceive a child with her husband, despite years of trying. In a desperate and drunken mistake, she sleeps with a young stranger. Determined to prove his paternity, his intentions soon become terrifyingly psychotic and the young woman finds herself at the centre of a psychological and brutally physical battle which she must win if she is to survive and have the family she longs for. 
RUNNING TIME:
  89 mins
CERT:
  15
PRICE:
  £12.99
CAT NO:
  HFR0071
BARCODE:
5022153100715 
SPECIAL FEATURES:
Making of COFFIN ROCK