OMFG!!!! Return To Eden.

Well, it's been a while since I put a blog up and I was wondering when I'd have something of significance to say. Never in my wildest dreams did I suspect I'd be in a position to shout about the following:
Ultravox are reforming to tour the UK in April 2009.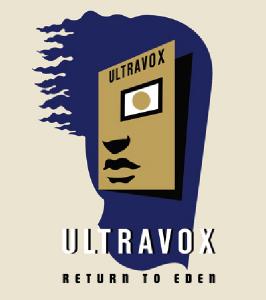 Yes, you heard it correctly. Midge Ure, Billy Currie, Chris Cross and Warren Cann from one of the most underrated and brilliant bands of the 80's have all decided to bury the hatchets, but not in each other, and set off on tour in assocation with Live Nation. This will be the first time that this lineup have performed on stage together since Live Aid way back in 1985.
There have been a few viral releases on youTube over the last month or so that have sent Ultravox fans into a bit of a frenzy of speculation. Gems such as:
and
Ah, the teasing gits. Just kidding, boys…
Before I go any further, I should mention that the source of all things Ultravox are the Extreme Voice crew who can be found at
http://www.ultravox.org.uk
There's an active forum for all like-minded fans as well as a lot of material on the band including fanzines. I should also point out that EV were also instrumental in all of the major Ultravox (both line-ups), Midge Ure and John Foxx re-issued releases, involvement including the graphic design of all these releases.
Cerise Reed, who has been at the hub of Extreme Voice for longer than anyone can remember, is a professional graphic designer and her site can be found here:
http://www.aardvark-creative.com
The original press release of the tour info can be found here:
http://www.ultravox.org.uk/tour-dates.shtml
The full list of dates is here:
APRIL 2009
10
Edinburgh Playhouse

(0870 228 1155)
18-22 Greenside Place, Edinburgh, Scotland EH1 3AA
11
Glasgow Clyde
(0870 040 4000)
Finnieston Street, Glasgow, Scotland G3 8YW
13
Newcastle City Hall

(0191 261 2606)
Northumberland Road, Newcastle Upon Tyne NE1 8SF
14
Manchester Apollo
(0844 477 7677)
Stockport Road, Manchester, Lancashire M12 6AP
15
Sheffield City Hall

(0114 278 9789)
Barkers Pool, Sheffield S1 2JA
17
Birmingham Symphony Hall

(0121 780 3333)
Broad Street, Birmingham B1 2EA
18
Bristol Colston Hall
(0117 922 3686)
Colston Street, Bristol BS1 5AR
20
Cardiff St. David's Hall
(0292 087 8444)
The Hayes, Cardiff, Wales CF10 1AH
21
Nottingham Royal Theatre
(0115 989 5555)
Theatre Square, Nottingham NG1 5ND
23
Brighton Dome
(0127 370 9709)
29 New Road, Brighton, East Sussex BN1 1UG
24
London Hammersmith Apollo
(0844 844 4748)
45 Queen Caroline Street, London W6 9QH
26
Bournemouth International Centre
(0844 576 3000)
Exeter Road, Bournemouth BH2 5BH
27
Plymouth Pavillion
(0845 146 1460)
Millbay Road, Plymouth PL1 3LF
28
Portsmouth Guildhall
(0239 282 4355)
Guildhall Square, Portsmouth, Hampshire PO1 2AB
Tickets will be available from Wednesday 12th November via Live Nation:
http://www.livenation.co.uk/ultravox
and a ¼ page advert will also appear in The Guardian Guide on that same day.
I personally never believed that this day would come and am frankly stunned and overjoyed, so as a final treat here's Ultravox in their prime playing arguably their best live track, The Voice, complete with major drumming by all the band at the end: