Ventriloquist Jeff Dunham comes to the O2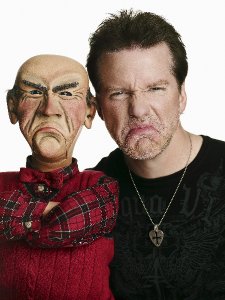 Live Nation presents in association with CAA & Levity Entertainment
JEFF DUNHAM
USA
'S NUMBER ONE COMIC & VENTRILOQUIST
ANNOUNCES
UK
TOUR FOR APRIL 2010 INCLUDING O2 ARENA LONDON
Top US comedian and ventriloquist Jeff Dunham comes to the UK for his first ever tour following his debut sell out London show at the Hammersmith Apollo earlier this year (which sold out a few days after it was announced!).  The tour starts on Monday 19th April at Wolverhampton's Civic Hall and culminates on Saturday 24th April at O2 Arena London.  The tickets will be available on Friday 23rd October from Live Nation. 
Jeff Dunham is a genuine entertainment phenomenon with an international 360-degree reach that includes record-breaking television specials, staggering DVD sales over 4 million (and rapidly counting), 360 million views on You Tube, a current international tour expected to gross $45 million, his own merchandise company that enjoys brisk sales of nearly 50 Dunham items and a new television series that will premiere on Comedy Central in the US later this month.  His widespread fame has led Dunham to sign a multi-platform deal with Comedy Central to encompass all areas of entertainment, including television, DVDs, a stand-up special, consumer products partnership and a 60-city Comedy Central Live stand-up tour.  There is no wonder why Time Magazine calls him
"the most popular stand-up comedian in the U.S."
He is the third-highest-earning comedian in America behind Jerry Seinfeld and Chris Rock and had the top-grossing comedy tour in North America last year. He is highly rated amongst his fellow comics - Jay Leno says
"Jeff Dunham really is the best there is"
and David Letterman cites Jeff as a
"tremendous talent and great star."
Jeff has acquired 1.7 M Face book fans and has the 27th most popular page amongst celebrities/public figures and the 8th most popular amongst nonfictional celebrities/public figures. Jeff is also the #1 most popular comedian on MySpace.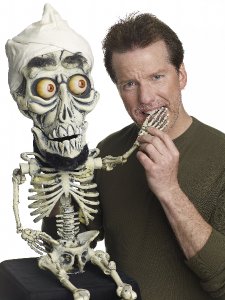 UK wise his debut DVD 'Spark of Insanity' has already sold over 30,000 copies here alone and was also the only comedy DVD to chart in the Top Twenty 2008 reaching No 1 in the stand up Amazon chart with almost 90% of the 750 people who reviewed the title giving it a five-star rating.  Last year alone, Dunham sold over 2.7 million DVDs Stateside (average US comedy DVD sales are around 25,000) and the US import of his release 'Spark of Insanity' reached No 7 in the Top 20 of the Amazon UK stand up charts. 
He is not just one of the funniest humans on the planet but the ringleader of a cast of comedic characters of his own creation like Walter the grumpy retiree; the beer-swilling, NASCAR loving and resolutely redneck Bubba J; the furry and manic Peanut; Jose Jalapeno, the spicy pepper from south of the border; and the bumbling skeletal Achmed the Dead Terrorist (this character clip is the 4th most watched video across the internet with 196.5 million worldwide views with his famous catchphrase being
"silence I kill you!")
. Taking his cues from the stuff of everyday life, people he and we all know and the world around us, Dunham invests his suitcase posse of sidekicks with such believable and lovable personality as they banter, quip and interact that audiences frequently forget that the characters are crafted by Dunham's own hand and comedic brilliance. 
Stateside he is now poised to make his mark in the literary world when Dutton Books publishes his memoir 'All By My Selves' later this year, the book will also include commentary from his hilarious characters. Jeff is currently developing an iPhone application that will allow users to manipulate his characters just like a ventriloquist, hear their favourite phrases, record new phrases for the characters to say, and access Jeff's tour dates, press photos, You Tube videos and website store.  
With numerous TV show appearances behind him including The Paul O Grady Show (where he made his UK debut), The Late Show with David Letterman, The Tonight Show and NBC's 'Hot Country Nights', Jeff Dunham has truly cracked the US with his status around the world constantly escalating you wouldn't want to miss this opportunity to see Jeff on this tour 
TOUR DATES:
APRIL
VENUE
Mon 19th            WOLVERHAMPTON - Civic Hall
Tues 20th           SHEFFIELD - City Hall                         
Wed 21st           GLASGOW - Concert Hall                     
Fri 23rd              MANCHESTER - Apollo            
Sat 24th             LONDON - O2 Arena                             
Tickets are priced at £40 for London & £28.50 for the regions. Tickets are available at
www.livenation.co.uk
(All tickets subject to booking fee)