Being Erica Season one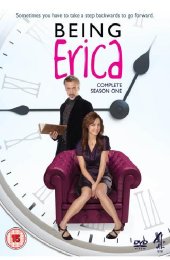 Certificate: 15
Running Time: 540 mins
Retail Price: £19.99
Release Date: 28/06/2010
Content Type: TV Series
Synopsis:
Ever feel like you've made the wrong decision? Wished you could turn back time and change the past? Well you probably know just how Erica feels.

Poor old Erica Strange (Erin Karpluk) was always top of the class, but now she feels like she's bottom of the pile. She's far too overqualified for her crummy call centre job and hasn't ever held down a successful relationship. With cute looks and a super brainy masters degree, where did she go wrong?

Desperate for some answers Erica turns to therapy with a mysterious shrink called Dr Tom, a virtual anomaly complete with disappearing office and no last name. His radical method for helping Erica move on from her past is to make her change it - by sending her back in time.
Special Features:
Erica's Weblogs

Related Websites:
http://www.e4.com/beingerica/

Starring:
Erin Karpluk, Vinessa Antoine, John Boylan, Kathleen Laskey, Joanna Douglas, Adam MacDonald, Paula Brancati, Michael Riley, Tyron Leitso, Reagan Pasternak, Morgan Kelly, Sarah Gadon, Devon Bostick, Sebastian Pigott, Laurence Leboeuf

Distributor:
Channel 4 DVD