Page 1 of Beijing 2022 Paralympic Winter Games

Beijing 2022 Paralympic Winter Games
admars

(Elite)

posted this on

Thursday, 3rd March 2022, 20:16
https://www.facebook.com/ParalympicsGB/posts/10159746974327270

Wondering how to watch the Beijing 2022 Paralympic Winter Games?

Channel 4, and their ground breaking all-disabled presenting team, have got you covered...

It all starts tomorrow morning with the Opening Ceremony at 11.30am (UK) live on Channel 4.

Ade Adepitan will helm a daily highlights show, with Ed Jackson and Lauren Steadman bringing the Breakfast Show to viewers. Ellie Robinson will be joined by British racing car driver Billy Monger as on-screen reporters and former sit-kier Sean Rose as pundit, while Tokyo 2020 presenter Arthur Williams will lead overnight sports coverage.

Daily Channel 4 programming (UK time - subject to change):

1am - 8am | Winter Paralympics: Live
8am | Winter Paralympics: Breakfast
5.30pm | Winter Paralympics: Today in Beijing

Live sport, highlights and more on Channel 4 YouTube.

RE: Beijing 2022 Paralympic Winter Games
admars

(Elite)

posted this on

Saturday, 5th March 2022, 11:31
https://www.paralympic.org/beijing-2022/results/medalstandings

https://twitter.com/ParalympicsGB/status/1500042006608896000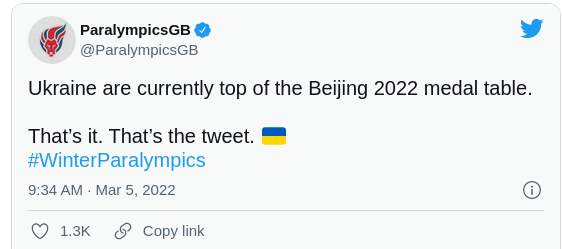 https://admars32.wordpress.com/
https://mobro.co/admars?mc=1