Zodiac
David Fincher began his career as a music video director, working with artists like Madonna, Paula Abdul and Billy Idol before he was given the opportunity by 20th Century Fox to move into feature films with Alien³. Due to 'creative differences' with the production company, he went back to making music videos and commercials before directing The Game, to some success. Since then he has made his name with Se7en, Fight Club and now Zodiac.

The publicity claims that Zodiac is "based on the true story of America's most notorious serial killer", though surely John Wayne Gacy, Jeffrey Dahmer and Ed Gein have at least equal claim to that title, although the Zodiac Killer differs from those as his identity, like Jack the Ripper, remains unknown and the case was never closed.


The film is based on two books by Robert Graysmith, who, in 1969, was a cartoonist and amateur cryptographer at The San Francisco Chronicle when the Bay Area was terrorised by a spate of murders. The killer, calling himself Zodiac, sent coded letters to the police and the city's newspapers, demanding their publication. Graysmith (Jake Gyllenhaal) takes an immediate interest in these cyphers and becomes fascinated with the case. Along with Paul Avery (Robert Downey Jr.) a journalist at the Chronicle and Inspector David Toschi (Mark Ruffalo) he seeks to discover the killer's identity. However, when the murders stop and the case goes 'cold', and with Avery burned out on drink and drugs and Toschi moved on to other cases, Graysmith slides into an obsession that threatens his marriage and his life.
James Vanderbilt's screenplay is impressive, compressing two books into a complex and absorbing thriller without becoming bogged down either by minutiae or the scale of the manhunt, almost revelling in them and sucking you in, as Graysmith was. Although 151 minutes long,
Zodiac
never feels like a long film - always a good sign.
Unlike
Se7en
, this serial killer film without a serial killer does not dwell on the murders, instead focusing on the response of the police and media to them.
Zodiac
combines elements of
All the President's Men
and
L.A. Confidential
- much of the first act takes place inside a newspaper office and the friendship between Robert Graysmith and Paul Avery is reminiscent of Woodward and Bernstein. As the film progresses, the focus shifts to the relationship between Graysmith and Inspector Toschi, becoming more of a police drama, before moving entirely onto Graysmith, his obsession and writing the book
Zodiac
.
I thought this was a great movie at the cinema and haven't changed my mind after watching it at home even with a slightly smaller screen and less powerful sound system. Although there are some extremely impressive visual touches, it isn't something that relies on its visuals to really sell it as it is a mature film by a maturing filmmaker who shows patience, technical brilliance and a real command on set to make such a powerful film
The Disc
Extra Features
The 'This Is Zodiac' making-of featurette runs at 27 minutes and is an interesting look behind-the-scenes, including interviews with cast, crew and those who worked on the actual case. It has the same subtitle options as the main feature.
There are trailers for 'Zodiac Director's Cut - Coming in 2008' (which is a bit of a kick in the teeth, asking you to double-dip),
300
and
Blood Diamond
.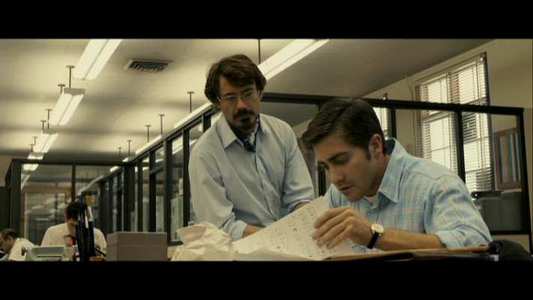 The Picture
Shot in David Fincher's usual aspect ratio of anamorphic 2.40:1 and with his trademark attention to detail,
Zodiac
looks terrific and is not let down by the DVD presentation. This was shot using the Viper high-definition digital video camera and incorporate some incredible CGI shots which you don't even realise have been created in a computer until you see it in a making of featurette.
The costumes, props and sets firmly establish the eras, with fashions changing as the timeframe of the story progresses.
Captured, stored and edited entirely using digital equipment,
Zodiac
is the first studio film ever to be treated solely as data from beginning to end.
The Sound
There are two Dolby Digital 5.1 soundtracks available, English and Italian, plus a DD 2.0 audio descriptive track for the visually impaired. The dialogue is extremely clear even though some of the characters mumble and talk over one another -- it is a testament to the quality of the soundtrack they can make out everything that is said.
The use of music from the period adds to the authenticity, and the choice to frame the film with Donovan's 'Hurdy Gurdy Man' was inspired, as the song has never sounded so strange.
There are plenty of subtitle options, including English and Italian HoH.
Final Thoughts
Zodiac
is an incredibly mature and engrossing film that is a terrific addition to the serial killer genre, with such entries as
Silence of the Lambs
,
Psycho
and
The Texas Chain Saw Massacre
. Due to the deliberate pacing, I can't imagine that this will be for everyone but it is an utterly compelling film that grows on you with every viewing and I wouldn't be surprised if, in years to come, this is seen as one of David Fincher's very best films.
Robert Downey Jr. aside, the performances are superb, especially John Carroll Lynch and Mark Ruffalo. Whilst not the finest work that David Fincher has produced, this is definitely worth a rent, but wait until the 2-disc 'Director's Cut' is released before you buy it - I wish I had!