The Girl with the Dragon Tattoo remake comes to DVD and Blu-ray this April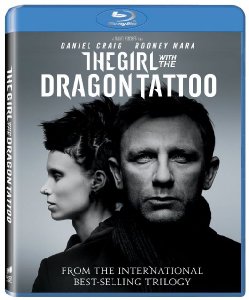 "...a razor-sharp thriller from a master of the craft. Unmissable." * * * *
Alex Zane -

The Sun
"...a scintillating masterpiece that holds you in a vice-like grip for every frame..." * * * * *
Digital Spy
"excellent"
****
Empire
THE GIRL WITH THE DRAGON TATTOO
Nominated for Five Academy Awards
 Including Best Actress
And Starring Daniel Craig, Rooney Mara, Robin Wright, Stellan Skarsgård, Christopher Plummer and Joely Richardson
Available on Blu-ray
, DVD and Digital Download April 23
Based on the International Best-Selling Novel and Loaded With More Than Four Hours of Behind-the-Scenes Footage and Commentary
London, UK. 23.02.12
-
The Girl with the Dragon Tattoo
- the gripping, hard-edged thriller based on the first of Stieg Larsson's suspenseful and spell-binding "Millennium" trilogy - arrives on Blu-ray, DVD and Digital Download on April 23. This highly anticipated motion picture from Sony Pictures Home Entertainment brings together an all-star ensemble cast led by Daniel Craig (
James Bond
franchise), Rooney Mara (
The Social Network
), Golden Globe nominee Robin Wright (1994, Best Actress
, Forrest Gump),
Stellan Skarsgård (
Thor
), Golden Globe winner Christopher Plummer (2012, Best Performance by an Actor In A Supporting Role,
Beginners
) and Joely Richardson (TV's "Nip/Tuck")
.
Earning $200 million in box office worldwide,
The Girl with the Dragon Tattoo
has received five Academy Award nominations including Actress in a Leading Role (Rooney Mara), Cinematography, Film Editing, Sound Editing and Sound Mixing. The film adaptation was directed by David Fincher with screenplay by Academy Award winner Steven Zaillian (2002, Writing (Original),
Gangs of New York
) who executive produced along with Mikael Wallen and Anni Faurbye Fernandez (both
Headhunters
). Original music is by Academy Award winners Trent Reznor and Atticus Ross (2011, Best
Original
Score,
The Social Network
). The two-disc Blu-ray includes nearly four hours of special features.
Synopsis:
Disgraced journalist Mikael Blomkvist (Craig) accepts an invitation to surreptitiously investigate a forty year old unsolved murder on behalf of the victim's uncle, Swedish industrialist Henrik Vanger (Plummer). Meanwhile, tattooed hacker Lisbeth Salander (Mara), hired to investigate Blomkvist, discovers the truth behind the conspiracy that led to his fall from grace. Thrown together by fate, the unlikely duo uncovers a secret history of murder and sexual abuse festering beneath the veneer of Sweden's industrial past, all the while drawing close to a quiet evil waiting to engulf them both.
Blu-ray
 and DVD Include:
Commentary by Director David Fincher
Exclusive to the Two-Disc Blu-ray:
Dig deep inside the Vanger Archives with nearly four hours of immersive, behind-the-scenes footage including interviews and more:
Commentary by Director David Fincher

Vangar Archives:

Men Who Hate Women

Characters


[ul][li]

Salander, Lisbeth

- Casting Salander, Different in Every Way, The Look of Salander, Mara/Fincher, Irene Nesser, Salander Test Footage

Blomkvist, Mikael -

Casting Blomkvist, Daniel Craig on Film Acting, Dressing Blomkvist, Investigation (stills) photogallery,

Vanger, Martin

- Stellan Skarsgård on Film Acting, Psychopathy, Bondage, Torture, Wrapped In Plastic, Set Design(stills)
[/li]
On Location
Sweden

- Stockholm Syndrome, Stockholms Tunnelbana, f*** These People, The End, Picture Wrap

Hollywood

- Casting Armansky, Armansky Audition, Thinking Evil s***, Rape/Revenge, Int. Blomkvist's Cottage, Int. Martin's House, Int. Salander's Apartment
Post Production
In The Cutting Room

ADR

Main Titles (Multi-Angle) With Commentary by Tim Miller of BLUR Studio

Visual Effects Montage
Promotion - Theatrical trailers, TV spots, one sheet
Hard Copy- Commentary with Director David Prior
[/ul]
Find
The Girl with the Dragon Tattoo
on Facebook at
www.facebook.com/DragonTattoo.UK
PRODUCT INFORMATION
Title
The Girl With The Dragon Tattoo
Release Date April 23, 2012
Format Blu-ray & DVD
RRP DVD: £19.99
Blu-ray: £24.99
Certificate 18
Genre Drama Thriller
Running Time DVD: 152mins
Blu-ray: 158mins
Pricing and bonus features on Digital editions of
The Girl With The Dragon Tattoo
may vary by service provider.