Review of Women`s Erotic Wrestling: As Good as She Gets
Introduction
I`d never heard of the `Women`s Erotic Wrestling` DVD franchise prior to reviewing this and the saying that `ignorance is bliss` seemed to pretty apt from looking at the packaging. Imagine a wrestling ring set up in a redneck bar in which participants, from the disgusting and grossly obese `Big Poppa Mae` to the ludicrously dressed `Nurses T and D` take part in badly staged `fights` in which the winner progresses to the `Royal Rumble`.
I apologise if I`ve put an image in your head that you`d like surgically removed, but that`s what takes place on this DVD. Strangely enough, the organisation staging the fights is actually the `Women`s Extreme Wrestling` but there are five brief episodes backstage of girl-on-girl cunnilingus (the `Pussy World Order` tryouts) which obviously warrants the replacement of `extreme` with `erotic`.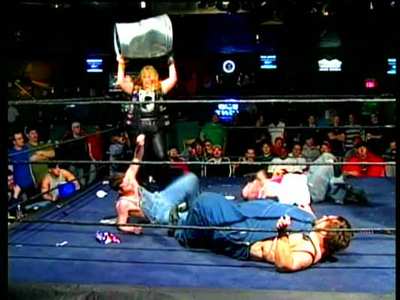 Video
Everything, including the long shots, was recorded on hand-held cameras, probably in order to give a more `realistic` feel to proceedings; it just ends up looking cheap.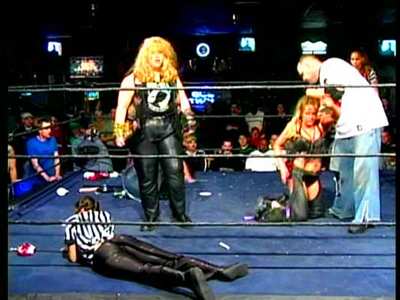 Audio
Horrendous, with dramatic volume fluctuations between the dreadful commentary and the microphone in the ring which contestants use to yell barely articulate abuse at each other and the crowd.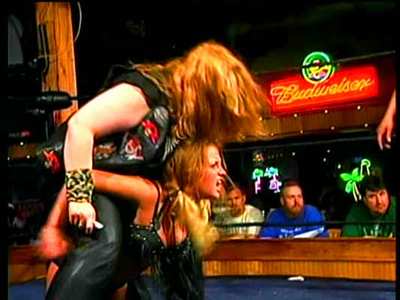 Features
Thankfully none.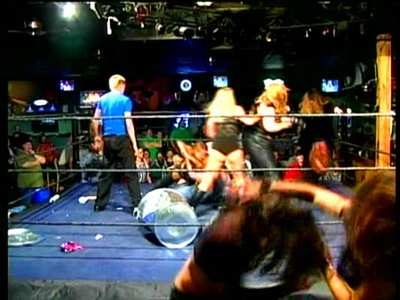 Conclusion
This DVD contains no wrestling in its truest sense and with grappling action that suggested that the organisers or participants had seen a TV show on how the WWE moves are performed - this is not for WWE fans. The brief appearances by the almost pornographic and far from erotic `Pussy World Order` are neither one nor the other and so are pointless.
When I sat down to watch the disc, I thought the running time was 82 minutes and was counting down the seconds. When it got to 80 minutes and the `Royal Rumble` was still pending, I checked the running time only to find that it was 102 minutes long and I had another 20 minutes to sit through! Never has my heart sank so far, so quickly.
This DVD looks and sounds like it was made for $150 and two cases of beer and the participants all appear to have walked straight off the set of `Jerry Springer` - this is a truly awful disc and I can`t imagine who the target audience is.
I`ve reviewed some crap, but, as The Simpsons` Comic Book Guy would surely say, "Worst Disc Ever".