Hapkido (UK)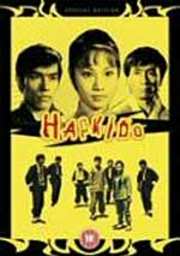 Here Comes the Unbreakable China Doll Who Gives You the Licking of Your Life!
Certificate: 18
Running Time: 93 mins
Retail Price: £16.99
Release Date:
Content Type: Movie
Synopsis:
Korea, 1934: during the Japanese occupation of the peninsular, open warfare between rival martial arts schools blights local life. A trio of Chinese students, their patience of constant aggression exhausted, send their antagonists packing.

However, retribution is swift and devastating: after their school is destroyed, the three are banished and return to China. With high hopes of starting their own school. the group is dismayed to find their local neighbourhood dominated by Japanese influence and the trio will need to use all their awesome Kung Fu skills to establish peace...

An early Golden Harvest outing for `Three Dragons` Sammo Hung, Yuen Biao and Jackie Chan, Hapkido also features notable turns from Angela Mao, Young Master`s Hapkido specialist Wong In-sik and real life Hapkido Grandmaster Ji Han Jae.
Special Features:
Hapkido featurette
UK promotional trailer
The art of Hapkido

Directed By:
Feng Huang

Starring:
Ying Bai
Ing-Sik Whang
Sammo Hung Kam-Bo
Carter Wong
Angela Mao