Butch Cassidy And The Sundance Kid (reissue) (UK)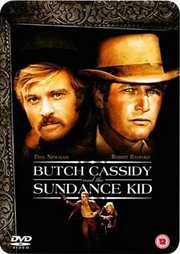 Not that it matters, but most of it is true
Certificate: 12
Running Time: 106 mins
Retail Price: £17.99
Release Date:
Content Type: Movie
Synopsis:
One of the most popular screen westerns ever made, this Academy Award winning classic blends adventure, romance and comedy to tell the true story of the West`s most likeable outlaws. No one is quicker than Butch Cassidy (Paul Newman) when it comes to get rich quick schemes, and his sidekick Sundance (Robert Redford) is a wizard with a gun. When these two bungling bank and train robbers tire of running from the law, they set out for Bolivia with Sundance`s girlfriend (Katharine Ross). Though they can barely speak enough Spanish to communicate `This is a stick-up`, that`s only a minor detail to the two nicest `bad-guys` who ever rode the West.
Special Features:
Disc One: Commentary by George Roy Hill, Lyricist Hal David, Associate Producer Robert Crawford and Cinematographer Conrad Hall. Commentary by Screenwriter William Goldman.
Disc Two: 2005 documentary, All Of What Follows Is True: The Making of Butch Cassidy and the Sundance Kid. The Wild Bunch: The True Tale of Butch & Sundance. History through the lens: Butch Cassidy and the Sundance Kid: Outlaws Out of Time. 1994 documentary: The Making of Butch Cassidy and the Sundance Kid. 1994 Interviews. Production Notes. Alternate Credit Roll. Theatrical Trailers. The Films of Paul Newman - Trailer Reel.

Directed By:
George Roy Hill

Written By:
William Goldman

Starring:
Paul Newman
Robert Redford
Katharine Ross
Strother Martin
Henry Jones
Jeff Corey

Casting By:
Michael McLean

Soundtrack By:
Burt Bacharach

Director of Photography:
Conrad L. Hall

Editor:
John C. Howard
Richard C. Meyer

Costume Designer:
Edith Head

Producer:
John Foreman

Executive Producer:
Paul Monash
Paul Newman