Killing Fields, The (Two Discs) (UK)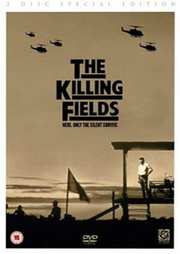 Every so often, there is a film that is destined to be talked about and remembered for years to come
Certificate: 18
Running Time: 136 mins
Retail Price: £19.99
Release Date:
Content Type: Movie
Synopsis:
Cambodia. Wartorn, beautiful, shattered by revolution. This is the story of one man`s determination to tell the truth whatever the cost, and of another man`s indomitable will to survive. Both would never forget what they saw, what they felt, what they experienced in The Killing Fields.
Special Features:
Disc One Commentary by Roland Joffé. Theatrical trailer.
Disc Two Omnibus documentary (56 mins). Interview with the writer Bruce Robinson. Interview with the producer David Puttnam.

Directed By:
Roland Joffé

Written By:
Bruce Robinson

Starring:
Craig T. Nelson
Julian Sands
John Malkovich
Haing S. Ngor
Sam Waterston