Species / Species 2 / Species 3 (Box Set) (UK)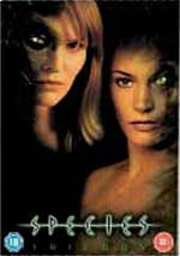 For 3 million years, the human race was the top of the evolutionary ladder. Nothing lasts forever
Certificate: 18
Running Time: 262 mins
Retail Price: £24.99
Release Date:
Content Type: TV Series
Synopsis:
Three features. In `Species` a genetically engineered, shape-shifting creature with extraterrestrial intelligence adopts the form of a beautiful woman to mate with humans and unleash a brood of offspring that will destroy mankind. A team of experts must band together to stop it from accomplishing its diabolical mission. Also `Species 2` and `Species 3`.
Special Features:


Audio Tracks:
Dolby Digital 5.1 English

Directed By:
Roger Donaldson

Written By:
Dennis Feldman

Starring:
Ben Kingsley
Michael Madsen
Alfred Molina
Forest Whitaker
Marg Helgenberger

Casting By:
Amanda Mackey Johnson
Cathy Sandrich

Soundtrack By:
Christopher Young
Richard Wagner

Director of Photography:
Andrzej Bartkowiak

Editor:
Conrad Buff IV

Production Designer:
John Muto

Producer:
Mark Egerton
Dennis Feldman
Frank Mancuso Jr.

Executive Producer:
David Streit