Day After Tomorrow, The (Two Discs) (UK)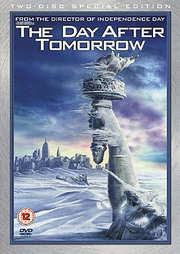 Where will you be?
Certificate: 12
Running Time: 124 mins
Retail Price: £24.99
Release Date:
Content Type: Movie
Synopsis:
Climatologist Jack Hall (Dennis Quaid) has been conducting research that indicates that global warming could trigger an abrupt and catastrophic shift in the planet`s climate. He cautions officials that it could happen if they don`t act soon, but his warning comes too late. As a series of increasingly severe weather events start to unfold around the globe, there are symptoms of a massive global change.
The melting polar caps have poured too much fresh water into the oceans and disrupted the currents that stabilise the climate system. Global warming has pushed the planet over the edge and into a new Ice Age. A global superstorm is on its way! Roland Emmerich`s disaster film also thoughtfully includes a human interest angle about Quaid setting off on a dangerous quest to rescue his son (Jake Gyllenhaal) from a icebound New York. And some wolves.
Special Features:
Disc One: Commentary by Roland Emmerich and producer Mark Gordon. Commentary by co-writer Jeffrey Nachmanoff, cinematographer Ueli Steiger, editor David Brenner and production designer Barry Chusid.
Disc Two: Pre-visualisation. Pre-production meeting. Storyboard gallery. Concept art gallery. Eye of the Storm: Filming The Day After Tomorrow. Pushing the Envelope: Visual Effects. Scoring. The Final Mix. Interactive Demo. Deleted scenes (with optional commentary). The Force of Destiny: The Science and Politics of Change. Trailers.

Video Tracks:
Widescreen Anamorphic 2.35:1

Audio Tracks:
Dolby Digital 5.1 English
DTS 5.1 English

Subtitle Tracks:
French
English
Spanish
CC: English

Directed By:
Roland Emmerich

Written By:
Jeffrey Nachmanoff
Roland Emmerich

Starring:
Jay O. Sanders
Dash Mihok
Emmy Rossum
Jake Gyllenhaal
Dennis Quaid

Distributor:
Twentieth Century Fox