I, Robot (UK)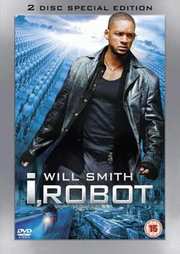 Laws are made to be broken
Certificate: 12
Running Time: 115 mins
Retail Price: £24.99
Release Date:
Content Type: Movie
Synopsis:
Chicago, 2035. Techno and robophobe Detective Agent Spooner (Will Smith) is appointed to investigate the alleged suicide of friend and father of modern robotics, Dr. Alfred Lanning (James Cromwell). At a time when robots have become commonplace in homes, Spooner suspects robots have turned against Lanning`s first law, "A Robot Must Not Harm a Human Being" and that the suicide may in fact be murder.
When Sonny (Alan Tudyk), a robot that has been taught human emotions, runs from the scene of the crime, Spooner enlists the help of ice-cool robot psychologist Dr. Susan Calvin (Bridget Moynahan) to track him down. Spooner deduces that scientist Lanning has left a trail of clues and has reprogrammed Sonny to help them uncover a suspected conspiracy. The events that follow lead them right to the heart of the multimillion-dollar corporation, U.S Robotics for an awe-inspiring showdown!
Special Features:
Disc One: Commentary by director Alex Proyas and screenwriter Akiva Goldsman. Commentary by production designer, editor, visual effects supervisors, associate producer, Digital Domain animation supervisor and CG supervisors. Commentary by composer Marco Beltrami. The Making of I, Robot. Gag reel. Stills gallery. Trailers for Alien Vs Predator, 24 and Electra.
Disc Two: Day Out of Days: The I, Robot Production Diaries. Post production. Sentient Machines: Robotic Behaviour. About Science Fiction and Robots. The Filmmakers` Toolbox and Visual Effects. Extended and deleted scenes. Easter eggs.

Video Tracks:
Widescreen Anamorphic 2.35:1

Audio Tracks:
Dolby Digital 5.1 English
DTS 5.1 English

Subtitle Tracks:
CC: English

Directed By:
Alex Proyas

Written By:
Akiva Goldsman
Jeff Vintar
Isaac Asimov

Starring:
Bruce Greenwood
James Cromwell
Alan Tudyk
Bridget Moynahan
Will Smith