C.S.I.: Season 3 Part 1 (Box Set) (UK)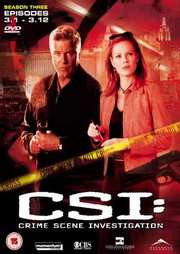 12 episodes
Certificate: 15
Running Time: 0 mins
Retail Price: £40.99
Release Date:
Content Type: TV Series
Synopsis:
C.S.I. is an acclaimed, edgy, fast-paced drama series about a passionate team of forensic investigators (among them William Petersen and Marg Helgenberger) who work the graveyard shift at the Las Vegas Criminalistics Bureau. Their job - to find the missing pieces at the scene that will help to solve the crime and vindicate those who often cannot speak for themselves - the victims. Between the hidden clues and the buried motives lies the trail to the truth because people lie... but the evidence never does. This box set contains the second half of Season 2.

Episode titles: Revenge Is Best Served Cold, The Accused Is Entitled, Let The Seller Beware, A Little Murder, Abra Cadaver, The Execution Of Catherine Willows, Fight Night, Snuff, And Then There Were None, Blood Lust, High And Low, Recipe For Murder.
Special Features:
`CSI Moves Into Season 3` featurette. The Writer`s Room featurette. Crime Scene Field Kit. Multiple episode commentaries.

Video Tracks:
Widescreen Anamorphic 1.78:1

Starring:
William L. Petersen
Marg Helgenberger
Gary Dourdan
George Eads
Jorja Fox

Casting By:
Eric Dawson
Elizabeth Greenberg
Carol Kritzer
Robert J. Ulrich
April Webster

Soundtrack By:
John M. Keane
Pete Townshend

Director of Photography:
Michael Barrett
Frank Byers
Gale Tattersall
Roy H. Wagner
Jonathan West

Editor:
Lou Angelo
J. Benjamin Chulay
Claudia Finkle
John Ganem
Augie Hess
Alex Mackie
Tom McQuade
Alec Smight

Costume Designer:
Alix Friedberg
Daniel J. Lester

Production Designer:
Cherie Baker
Richard Berg

Distributor:
Momentum Pictures