Fargo: Special Edition (UK)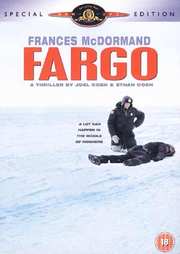 A lot can happen in the middle of nowhere
Certificate: 18
Running Time: 94 mins
Retail Price: £19.99
Release Date:
Content Type: Movie
Synopsis:
William H. Macy plays Jerry Lundegaard, a Minneapolis car salesman who is, by all accounts, a loser. He is desperately in debt, so decides to hires two thugs (who are as bigger losers as he is) to kidnap his wife in the hope that his wealthy father-in-law (who bullies him regularly) will pay the ransom. When one of the kidnappers goes of the rails and events career out of control, it falls to Marge Gunderson, Chief of the Brainerd Police Department, to set things right.

Arguably the best of the Coen brothers films (they won and Oscar for the script), featuring two of their best usual suspects, Steve Buscemi (Barton Fink, The Big Lebowski) and Frances McDormand (Blood Simple, Crimewave, Raising Arizona) -who won the Best Actress Oscar for her performance in this role.

The film raked in a range of other prestigious and International Awards, 36 in total - including best direction at Cannes and David Lean Award for Direction at the 1997 BAFTA awards.
Special Features:
New Documentary: `Minnesota Nice` - an insight into the peculiarities of the region
Interview with the Coen brothers
Audio Commentary 1 with Producers Tim Bevan and Eric Fellner
Audio Commentary 2 with Director of Photography Roger Deakins
The Coen brothers repertory company - interactive guide focusing on regular collaborators Turturro, Goodman, and McDormand
Photo Galleries with rare pictures from the set
Trivia Tracks
American Cinematographer article with detailed behind the scenes insights
Trailers & TV Spots

Video Tracks:
Widescreen Anamorphic 1.78:1
Standard 1.33:1

Audio Tracks:
Dolby Digital 5.1 English
Dolby Digital 5.1 French
Dolby Digital 5.1 Spanish

Subtitle Tracks:
French
Polish
English
Spanish
Portuguese
CC: French
Croatian
Dutch

Directed By:
Joel Coen

Written By:
Ethan Coen
Joel Coen

Starring:
Frances McDormand
Gary Houston
Tony Denman
Harve Presnell
Peter Stormare
Steve Buscemi
William H. Macy

Casting By:
John S. Lyons

Soundtrack By:
Carter Burwell

Music From:
Jimmy Webb
Chuck Mangione
Lee Hazlewood
Burt Bacharach
Paul Anka

Director of Photography:
Roger Deakins

Editor:
Joel Coen
Ethan Coen

Production Designer:
Rick Heinrichs

Producer:
Ethan Coen
John Cameron

Executive Producer:
Eric Fellner
Tim Bevan

Distributor:
MGM / UA