Freddy`s Dead: The Final Nightmare (UK)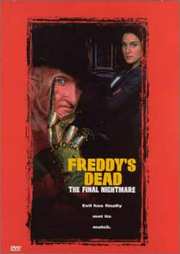 They saved the best for last
Certificate: 18
Running Time: 85 mins
Retail Price: £15.99
Release Date:
Content Type: Movie
Synopsis:
They tried to burn him! They tried to bury him! They tried to wash him away with holy water! But like Freddy says "Sticks and stones may break my bones but you can never kill me". There`s just one problem... he`s run out of kids to spook in Springwood. So Freddy hitches a ride inside some poor soul`s dream to the nearest town and hey, quicker than you can say `Nine,ten, never sleep again`, the dreamstalker`s back in business.
But enough is enough. Do or die it`s time someone made Freddy hang up his hat for good.

So get ready for Freddy in the final nightmare!
Special Features:


Directed By:
Rachel Talalay

Written By:
Michael De Luca
Rachel Talalay
Wes Craven

Starring:
Breckin Meyer
Ricky Dean Logan
Lezlie Deane
Shon Greenblatt
Lisa Zane
Robert Englund

Casting By:
Roger Mussenden
Jane Jenkins
Janet Hirshenson

Soundtrack By:
Brian May

Director of Photography:
Declan Quinn

Editor:
Janice Hampton

Production Designer:
C.J. Strawn

Producer:
Aron Warner
Robert Shaye
Michael N. Knue

Executive Producer:
Michael De Luca

Distributor:
Pathe