Open Your Eyes (Abre Los Ojos) (UK)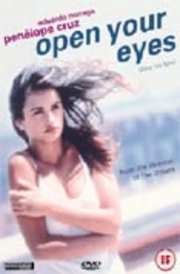 Reality and fantasy blend together but will Cesar have a future?
Certificate: 15
Running Time: 117 mins
Retail Price: £15.99
Release Date:
Content Type: Movie
Synopsis:
César (Eduardo Noriega) is vain, rich and charming. His womanising ways often irritate his best friend, Pelayo (Fele Martinez), who is not surpnsed when César moves in on Sofia (Penelope Cruz), a beautiful young woman who happens to be his date for César`s birthday party.
César decides to use her to extricate himself from the clutches of Nuria (Najwa Nimri), a one-night stand who has steadfastly reflised to accept his rejection. But to his surprise, César finds himself falling for Sofia.

Running into Nuria the next day, César reluctantly accepts a lift in her car. But Nuria drives off the road, killing herself and permanently destroying César`s once handsome face.

Awakening in a psychiatric prison for a murder he does not remember committing and prompted to wear an expressionless mask to hide his scarred face, César, with the help of a sympathetic psychiatrist, tries to make sense of recent events.

As he does so, his life begins to umavel. Reality and fantasy blend together and César is terrified that if he cannot uncover the truth, no matter how fearful it may be, he will have no future...
Special Features:
Interactive Menus
Scene Access
Production Notes

Video Tracks:
Widescreen Anamorphic 1.78:1

Audio Tracks:
Dolby Digital Stereo 2.0 Spanish

Subtitle Tracks:
English

Directed By:
Alejandro Amenábar

Written By:
Mateo Gil
Alejandro Amenábar

Starring:
Jorge de Juan
Gérard Barray
Najwa Nimri
Fele Martínez
Chete Lera
Penélope Cruz
Eduardo Noriega

Soundtrack By:
Mariano Marín
Alejandro Amenábar

Director of Photography:
Hans Burman

Editor:
María Elena Sáinz de Rozas

Producer:
Alain Sarde
Andrea Occhipinti
José Luis Cuerda
Fernando Bovaira
Ana Amigo

Distributor:
Momentum Pictures