Untamed Heart (UK)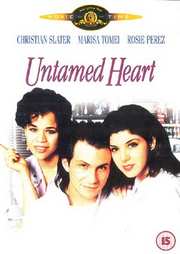 A moving drama about a very different kind of love affair
Certificate: 15
Running Time: 97 mins
Retail Price: £12.99
Release Date:
Content Type: Movie
Synopsis:
Christian Slater, Marisa Tomei and Rosie Perez star in this moving story about a very different kind of love affair. Caroline (Tomei) is a waitress in a Minneapolis diner. Laughing and joking with the customers and her co-worker Cindy (Perez), she appears to be outgoing, ambitious and street-smart. But the air of confidence is only a front. Adam (Christian Slater) also works in the diner. A gentle misfit, he is smitten with Caroline but too afraid to tell her. For within, Adam bears a secret that sets him apart from the others. But unknown to him, Caroline might just provide the key...
Special Features:
Original theatrical trailer

Video Tracks:
Widescreen Anamorphic 1.85:1

Audio Tracks:
Dolby Digital Surround 2.0 English
Dolby Digital Surround 2.0 Spanish
Dolby Digital Surround 2.0 German
Dolby Digital Surround 2.0 Italian
Dolby Digital Surround 2.0 French

Subtitle Tracks:
French
Italian
Swedish
Finnish
Turkish
English
Spanish
German
Dutch
Danish
Norwegian

Directed By:
Tony Bill

Written By:
Tom Sierchio

Starring:
Willie Garson
Kyle Secor
Rosie Perez
Marisa Tomei
Christian Slater

Casting By:
Marci Liroff

Soundtrack By:
Cliff Eidelman

Director of Photography:
Jost Vacano

Editor:
Mia Goldman

Costume Designer:
Lynette Bernay

Production Designer:
Steven J. Jordan

Producer:
Tom Sierchio
Marci Liroff
Tony Bill
Helen Buck Bartlett

Executive Producer:
J. Boyce Harman Jr.

Distributor:
Metro Goldwyn Mayer