WWE: Austin 3:16 Best of Stone Cold Steve Austin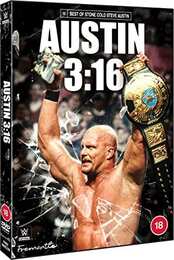 Certificate: 18
Running Time: 196 Mins
Retail Price: £12.99
Release Date: 03/10/2022
Content Type: TV Series
Synopsis:
ARRIVE. RAISE HELL. LEAVE.

When the glass shatters, "Stone Cold" Steve Austin strikes. This collection features The Rattlesnake's definitive matches and moments from his storied career, including battling Bret Hart at WrestleMania 13, brawling with Booker T in a supermarket and stunningly defying Mr. McMahon.

So kick back, open a cold can of Steveweiser and enjoy the greatest Stone Cold matches and moments.
Special Features:
King of the Ring 1996
Austin 3:16 is Born

WrestleMania 13
I Quit Match
"Stone Cold" Steve Austin vs. Bret Hart

A Stunning Performance
RAW – September 22, 1997

Royal Rumble 1998

Wrestlemania 14
WWE Championship
Shawn Michaels vs. "Stone Cold" Steve Austin

A New Era
RAW – April 6, 1998

McMahon on Ice
RAW – September 28, 1998

Bedpan McMahon
RAW – October 5, 1998

Beer Bath
RAW – March 22, 1999

Wrestlemania 15
No DQ match for WWE Championship
"Stone Cold" Steve Austin vs. The Rock

Price Check
SmackDown – December 13, 2001

Wrestlemania 19
"Stone Cold" Steve Austin vs. The Rock

Nations Crumble
Wrestlemania 32

A Stunning Return
RAW 25 – January 22, 2018

Related Websites:
https://wwedvd.co.uk/wrestling/austin-316-best-of-stone-cold-steve-austin-dvd/

Distributor:
Freemantle Home Entertainment