Former wrestler Steve Austin stars in Recoil out on DVD and Blu-ray in April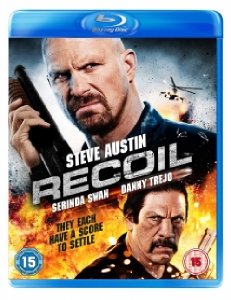 RECOIL
Released on Blu-ray and DVD 16 April 2012
After the murder of his family, a former cop turns vigilante in order to find the criminals that have slipped through the system and exercise his own brand of ruthless justice in the hard-hitting and gripping action release,
RECOIL
, out on Blu-ray and DVD from Entertainment One on 16th April 2012.
Former Pro Wrestling World Champion turned actor, Steve 'Stone Cold' Austin (The Expendables, The Longest Yard, Damage) and Danny "Machete" Trejo (Planet Terror, Grindhouse) star in this action-packed, must-see for adrenaline junkies and wrestling fans.
When honourable police officer Ryan Varrett's (Austin) entire family is viciously murdered, the one-time good guy cop is forced to go rogue - breaking the laws he once swore to uphold - in his quest for justice. The primary targets for Varrett's revenge are a murderous biker gang, a corrupt local police, and a cold-hearted crime lord named Drayke (Trejo).
Directed by Terry Miles (A Night For Dying Tigers) and co-starring sexy Serinda Swan (TRON: Legacy, Percy Jackson and the Lightning Thief),
RECOIL
is a thrilling, bone-crunching, revenge actioner.
Recoil

Blu-ray and DVD Details
Certificate: tbc
Audio (DVD): Dolby Digital 5.1/2.0
Audio (Blu-ray): DTS-HD Master Audio
Aspect ratio: 16:9 (1.85:1)
Running time: TBC
Price (DVD): £12.99
Price (Blu-ray) £14.99
Special features: Trailer