Bad Santa 2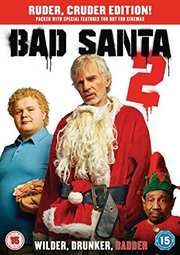 Certificate: 15
Running Time: 92 Mins
Retail Price: £9.99
Release Date: 06/11/2017
Content Type: Movie
Synopsis:
Billy Bob Thornton returns to star as criminal Santa impersonator Willie Stokes in this festive black comedy sequel.
Still the same drunken, greedy guy, Willie and his sidekick Marcus (Tony Cox) conspire to make a big score this Christmas, by robbing a Chicago charity.
This time they have some help, even if it is a little unwelcome, from Willie's mother, Sunny (Kathy Bates). she is as ambitious as she is crass, so she ought to fit right in. but things might get even more complex thanks to the involvement of the bombshell who runs the charity, Diane (Christina Hendricks).
With a pure heart and a less than pure mind, Willie is smitten with her. The cast also features Brett Kelly returning as The Kid Thurman Merman from the first film and Ryan Hansen as the devious Regent who runs the Charity.
Special Features:
Featurettes:
Thurman Then and Now
Just Your Average Red Band Featurette

Jingle Balls
Deleted Scenes
Gag Reel
Alternative Opening
Alternative Ending
6 Trailers, Teasers and TV Spots

Related Websites:
http://www.badsanta2.com/

Directed By:
Mark Waters

Starring:
Billy Bob Thornton
Christina Hendricks
Kathy Bates
Tony Cox
Brett Kelly

Distributor:
Entertainment One