Log Horizon: Season 2 - Part 1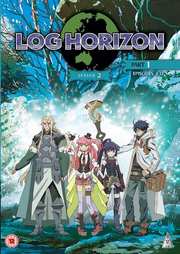 Every adventure, great and small, begins with a single choice...
Certificate: 12
Running Time: 338 mins
Retail Price: £24.99
Release Date: 2016
Content Type: TV Series
Synopsis:
It's been six months since the event that trapped thousands of players in the online game world of Elder Tales and the situation is far from secure. The People of the Land are engaged in open warfare against the Goblin armies of Zantleaf. Minami spies are infiltrating the populace. And even with the support and guidance of the Round Table Alliance, the cost of sustaining the city of Akihabara is causing the entire infrastructure to teeter on the brink of collapse.

With winter coming, Shiroe and his companions are forced to consider their options. Should they stay in Akihabara and attempt to weather the oncoming storm? Or should they gamble on missions to other portions of the world in search of new sources of valuable treasure? The launch of another series of raids will test old alliances while new ones are forged, as the adventure continues in the second season of LOG HORIZON!

Contains episodes 1-13.
Special Features:
Textless Credits

Video Tracks:
1.78:1 anamorphic widescreen

Audio Tracks:
Dolby Digital 2.0 Stereo English
Dolby Digital 2.0 Stereo Japanese

Subtitle Tracks:
English

Directed By:
Shinji Ishihira

Written By:
Toshizo Nemoto
Syouji Masuda
Mamare Touno

Starring:
Emiri Kato
Takuma Terashima
Tomoaki Maeno
Nao Tamura
Ayahi Takagaki
Daiki Yamashita
Jouji Nakata
Misaki Kuno
Yumi Hara
Andrew Love
Jad Saxton
Mike Yager
Greg Ayres
Hilary Haag
Jovan Jackson
Luci Christian
Maggie Flecknoe
Shelley Calene-Black

Music From:
Yasuharu Takanashi

Director of Photography:
Yuujirou Yamane

Distributor:
MVM