Hakkenden - Eight Dogs Of The East: Season 2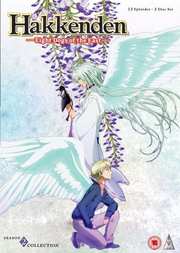 Live by the sword. Die by the sword.
Certificate: 15
Running Time: 340 mins
Retail Price: £29.99
Release Date: 2016
Content Type: TV Series
Synopsis:
Forced to choose between death and an unnatural life bound to the living sword Murasame, Shino Inuzuka chose the sword. Now, however, in the bloody aftermath of his transformation and Kohaku's death, Shino's awareness of the true scope of his bond with Murasame has expanded. Is he truly a curse to all who meet him?

In the end, the focus must return to the mysterious beads which started everything. What exactly are their origin and powers? Who and where are the holders who have not yet been located? And what are Rio Saotome and the Imperial Church's real roles in all of this? Does the woman who is "She," hold the answers?

Contains episodes 1-13 of season 2.
Special Features:
Textless Credits
Trailers

Video Tracks:
1.78:1 anamorphic widescreen

Audio Tracks:
Dolby Digital 2.0 Stereo English
Dolby Digital 2.0 Stereo Japanese

Subtitle Tracks:
English

Directed By:
Osamu Yamasaki

Written By:
Mitsue Yamazaki
Osamu Yamasaki
Miyuki Abe

Starring:
Ayahi Takagaki
Satoshi Hino
Tetsuya Kakihara
Daisuke Namikawa
Hiroshi Kamiya
Junichi Miyake
Nobuhiko Okamoto
Shinichiro Miki
Takuma Terashima
Tomoaki Maeno
Emily Neves
Greg Ayres
Leraldo Anzaldua
Andrew Love
Blake Shepard
David Matranga
Greg Ayres
Houston Hayes
Illich Guardiola
Mark X Laskowski
Ty Mahany

Music From:
Hitomi Kuroishi

Director of Photography:
Shinyo Kondo

Producer:
Atsushi Iwasaki
Keiichi Matsuda
Kozue Kananiwa
Masakatsu Oomuro
Natsuki Uetake
Yukie Iwashita
Yuko Soe

Distributor:
MVM