Dragon Ball: Season 4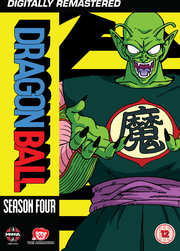 The search for the seven magic balls continues!
Certificate: PG
Running Time: 951 mins
Retail Price: £34.99
Release Date: 2014
Content Type: TV Series
Synopsis:
Goku's headed for a showdown with a sinister green fiend!

A new breed of evil - more powerful than anything ever experienced - is taking the world's greatest martial artists down for the count. Goku is quick to join the fight, but he's about to meet his match in the form of King Piccolo. This menacing monster has the power to pulverize the planet, and his murderous rampage will not stop until he controls the power of the seven magic Dragon Balls.

When Krillin is the first hero cut down by the monster's minion, the stage is set for a brutal grudge match between Goku and Piccolo. Earth's greatest champion vows to avenge the loss of his best friend, but first, he must journey to Korin Tower on a quest for the Ultra Divine Water: a magical elixir that could give him the strength to save humanity - or send him straight to the grave!
Special Features:
Character Profiles
Trailers

Video Tracks:
4:3 regular

Audio Tracks:
Dolby Digital 2.0 Stereo English
Dolby Digital 2.0 Mono Japanese

Subtitle Tracks:
English

Directed By:
Daisuke Nishio
Minoru Okazaki

Written By:
Akira Toriyama

Starring:
Hiromi Tsuru
Masako Nozawa
Hiroko Emori
Hirotaka Suzuoki
Kenji Utsumi
Kôhei Miyauchi
Mami Koyama
Mayumi Shou
Mayumi Tanaka
Naoki Tatsuta
Naoko Watanabe
Shigeru Chiba
Takeshi Aono
Tohru Furuya
Toshio Furukawa
Stephanie Nadolny
Tiffany Vollmer
Brad Jackson
Brice Armstrong
Christopher R. Sabat
Chuck Huber
Laura Bailey
Laurie Steele
Meredith McCoy
Mike McFarland
Mike Shepherd
Monika Antonelli
Sonny Strait

Music From:
Shunsuke Kikuchi

Distributor:
Manga Entertainment