Wagner: Rienzi (Steinberg)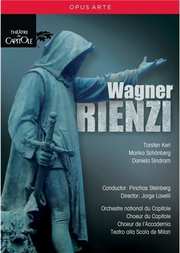 Recorded live at the Théâtre du Capitole, Toulouse, October 2012
Certificate: N/A
Running Time: c.176 mins
Retail Price:
Release Date:
Content Type: Movie
Synopsis:
Championing love and personal heroism in the face of eccliastical oppression and political chicanery, Wagner's third opera explores characteristic themes with terrific energy which culminates in the eponymous Roman tribune's famous prayer to the gods of his fatherland, followed by a riot which prefigures the young composer's own abortive career as a firebrand and revolutionary.

Within the elegant minimalism of Jorge Lavelli's production, Torsten Kerl brings ringing authority to the title role, supported by the experienced Wagnerian Pinchas Steinberg.

Filmed in High Definition and recorded in true Surround Sound.
Special Features:
Interviews with Jorge Lavelli, Pinchas Steinberg and other members of the cast and crew

Cast Gallery

Related Websites:
http://www.theatreducapitole.fr/
https://www.opusarte.com/

Video Tracks:
NTSC 16:9 Anamorphic

Audio Tracks:
DTS
LPCM Stereo

Subtitle Tracks:
English
French
German
Korean