Wagner: Tristan und Isolde (Schneider)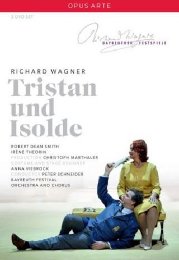 Live from the 2009 Bayreuth Festival
Certificate: N/A
Running Time: 289 mins
Retail Price: £29.99
Release Date: 01/01/2010
Content Type: Musical Recording
Synopsis:
Recorded live at the Bayreuth Festival in Summer 2009, this production marks the beginning of an exciting new long-term partnership between the Bayreuth Festival and Opus Arte. The prestigious music festival takes place each year in northern Germany in a theatre that Wagner himself personally supervised the design and construction of. The festival has become a pilgrimage destination for Wagner enthusiasts, who often have to wait up to ten years to obtain a ticket! Katarina Wagner, the great-grand daughter of Richard Wagner, is currently co-director of the festival together with her sister Eva Wagner-Pasquier.

Tristan und Isolde was first performed in 1865 and provided inspiration to many composers including Mahler, Strauss, Szymanowski and Berg. It is widely acknowledged as one of the peaks of the operatic repertoire, and has been performed regularly since is premiere. This production, by renowned director Christoph Marthaler, stars leading Wagner exponents Robert Dean Smith and Iréne Theorin in the title roles, supported by the Bayreuth Festival Chorus and Orchestra conducted by Peter Schneider.

Tristan: Robert Dean Smith
Marke: Robert Holl
Isolde: Iréne Theorin
Kurwenal: Jukka Rasilainen
Melot: Ralf Lukas
Brangäne: Michelle Breedt
Junger Seemann: Clemens Bieber
Ein Hirt: Arnold Bezuyen
Ein Steuermann: Martin Snell

Bayreuther Festspiele Chorus
Bayreuther Festspiele Orchestra
Conductor: Peter Schneider
Choral Conducting: Eberhard Friedrich
Stage Director: Christoph Marthaler

Recorded live at the Bayreuth Festival, Germany, in 2009.
Special Features:


Related Websites:
http://www.bayreuther-festspiele.de/english/english_156.html
http://www.opusarte.com/

Video Tracks:
16:9

Audio Tracks:
5.1 DTS Surround
PCM Stereo

Subtitle Tracks:
English
French
German
Spanish