Line of Duty : Series One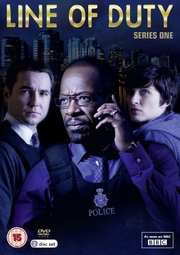 Certificate: 15
Running Time: 323 minutes
Retail Price: £19.99
Release Date:
Content Type: TV Series
Synopsis:
Line of Duty is the fast-paced hard-hitting thriller that delves into the murky world of police corruption.

When a counterterrorism raid goes tragically wrong Detective Sergeant Steve Arnott (Martin Compston – Monarch of the Glen, Sweet Sixteen) refuses to participate in a cover-up. Ostracised by colleagues, he transfers to an anticorruption unit AC-12, which is in the process of investigating one of the Force's most respected officers, Detective Chief Inspector Tony Gates (Lennie James – The Walking Dead, Run).

Gates has just been awarded Officer of the Year and his squad has returned the best crime figures for three consecutive years. But can anyone really be that good? Arnott doesn't think so and soon he and Gates are embroiled in a game of cat-and-mouse.

As the stakes get higher, it isn't just careers on the line – it's lives.
Special Features: