Review for Educating Marmalade
Punk rock meets Roald Dahl!
Well, I can honestly say I have never seen anything like it. Created by Andrew Davies of 'To Serve Them All My Days' and 'Bridget Jones's Diary', Marmalade Atkins is, as described by herself, "the worst girl in the world", a punkish youngster with lots of attitude. The character first appeared in a book in 1979, 'Marmalade & Rufus', though soon transferred to the little silver screen.
Very much of its time, it's a familiar enough theme. Naughty kid gets the better of fussy adults, bullies and keeno cissies. A bit like 'Down with Skool' only this time with a bit of punkish Grrrrrl power, and why not?
Charlotte Coleman does a great job at the part (after her debut as Sue in Worzel Gummidge and some years before she went on to feature in 'Five Weddings and a Funeral' and 'Oranges are not the only Fruit' – tragically dying from an asthma attack in her early thirties, though I digress). She's sassy, confident and cool, generally finishing all her sentences with the word 'cock' (short for cockney I guess) acceptable then as a cheery working class endearment.
Marmalade Atkins is a rough and tumble tomboy whose only friend is a nodding dog (popular in the back of cars at the time) who also talks to her. Her parents provide much of the comedy with her Dad a henpecked City swindler whilst his wife is constantly on the phone to 'arrods, spending as much money as she can. It's a lovely side-swipe at the emerging Nuevo-riche, in this case the English equivalents of the bludgeoness parents of Matilda, a Roald Dahl feature film from 1996, played by John Bird (yes – I know) and Lynda Marchal before her incredible transformation into author and screen-writer, Lynda La Pl ante.
The whole thing started as a one off play for the Theatre Box series in 1981 ('Marmalade Atkins in Space' – included on the 'Educating Marmalade' set) which was a hyper-surreal outing featuring nuns with moustaches and astronauts who drove an old taxi into space. Much video style special effects and bad Chroma key ensues along with a barrage of pantomime like performances, setting the anarchic house style for the series that would follow.
'Educating Marmalade' was a Thames Television production comprising some ten 20-minute episodes (airing from October 25th 1982 to January 3rd 1983) which show Marmalades parents sending her to a whole series of alternate schools, ending with her inevitable expulsion from them all. They include 'Cringe Hill', the worst school in England, full of anarchic punks and crooks (including a brief cameo from a young Kathy Bates, typecast from the off as a Waynetta Slob type) through to schools run by nuns, and everything in-between.
Whatever the case Marmalade always gives as good as she gets. As she says to two weeping teachers in one of the episodes; 'It's your job to try and make me good – and it's my job to be bad. That's just how it is.'
Every episode starts with a terribly earnest "bad girl warning" telling viewers to switch off if they didn't like bad girls doing bad things – all that reverse psychology stuff.
The whole thing has a post-punk sensibility (Bad Manners play the title song for starters) and it was a show that kids loved but parents hated – the best kind!
This clipping from From the Junior TV Times, October 9th 1982, sums it all up beautifully.
Alright Cock?!

Charlotte lets it be known: she's not another Marmalade! Charlotte Colman, who used to be Sue in Worzel Gummige, is soon to appear in the title role of Thames TV's Marmalade Atkins. She's enjoying it apart from one thing...

"She's terrible," Charlotte groaned. "She's a rebel: we go to places like Eton, have a nanny, even hire a woman like Barbara Woodhouse and they all give up on her. And everybody says I'm like her...but I'm not! I don't dress like her- she's in a big baggy jumper and a mini-skirt while I wear things like ski-pants and fifties' dresses. Even my hair is different. When we did the original episode, last year, my hair was crazy, all different colours, so we used it. Now I've had it cut in a bob so I have to wear a wig, which is horrible because it itches. I suppose I do get into a bit of trouble at school but that's mostly because, although I enjoy going there, I'm not very good at it. I do want to learn and I try quite hard but that's mostly because, although I enjoy going there, I'm not very good at it. The only thing I'm any good at is art- the worst is geography. Maybe I jut don't like school work."

Well, maybe she is...just a bit...like Marmalade Atkins!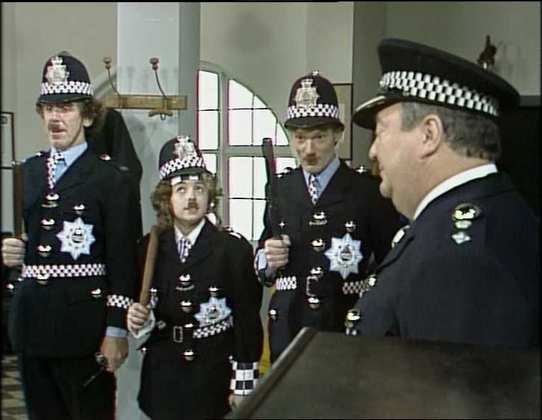 The two series have been released by Network as single disc sets containing all episodes from each series respectively. Image quality is excellent for a series that has been stored on tape since release some thirty ago.
For those who remember this with fondness it will be a welcome release. For those like me who didn't see it first time round but who have an interest in TV from this period, it provides many insights (was that a Dracula board game she has in her room?) though is best taken in small doses. Very small doses. Of no more than 20 minutes each preferably and with a week to recover until the next one.
Thanks to Network for making such things possible.
Here's the episode guide and original tx dates for those with an unhealthy interest in such things!

EDUCATING MARMALADE

Comedy series for children by Andrew Davies, featuring the misadventures of schoolgirl Marmalade Atkins
ITV tx 1982/10/25-1983/01/03
Episodes
CRINGE HILL (25/10/1982)
The CONVENT OF THE BLESSED LIMIT (01/11/1982)
MARMALADE AT ETON (08/11/1982)
WALKIES (15/11/1982)
MARMALADE AT ST CECILIA'S (22/11/1982)
MARMALADE IN VENICE (29/11/1982)
NANNY (06/12/1982)
SHORT SHARP SHOCK (13/12/1982)
The NATIVITY PLAY (20/12/1982)
MARMALADE AT THE ALBERT HALL (03/01/1983)
DANGER - MARMALADE AT WORK

Children's comedy series, a sequel to EDUCATING MARMALADE, in which Marmalade Atkins, having left school, tries her hand at various jobs.
GB. Thames Television. ITV tx 1984/02/20-1984/04/30
Episodes
SOCIAL WORKER (20/02/1984)
MARMALADE BRAVO (27/02/1984)
007½ (05/03/1984)
MARMALADE AND CHEF ROBO (12/03/1984)
PRIVATE MARMALADE (19/03/1984)
THE CRUISE OF THE GROTTY SARK (26/03/1984
SHAME (30/04/1984)
AIRPLANE ATKINS (16/04/1984)
WHAT THE BUTLER SAW (09/04/1984)