Lionsgate bring Adventures in Lalaloopsy Land to DVD this March with a feature length movie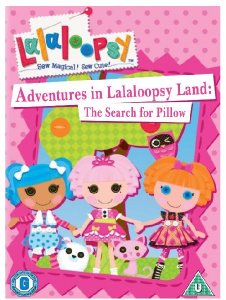 ADVENTURES IN LALALOOPSY LAND:
The Search for Pillow
DVD Release 26th March 2012
Sew magical. Sew cute.
The Lalaloopsy movie is here! Your favourite characters come to life, starring in their very own film. This brand new full-length feature
Adventures in Lalaloopsy Land: The Search for Pillow
, will be available to own on DVD from the 26th March (RRP £15.99).
Lalaloopsy are magical ragdolls who come to life when their last stitch is sewn. Each doll has their own individual personality created by the fabrics used to make them. They live in a colourful, whimsical world full of fun and surprises.
Peanut Big Top has a big surprise and everyone can't wait to see what it is. But one of the gang is missing! It seems that Pillow Featherbed has sneaked off for a nap and is in danger of missing out on the surprise. The Lalaloopsy girls set off to find their friend but discover that everyone has their own ideas on the best way to search Lalaloopsy Land and it's not until they work together that their plans start to work… The hunt for Pillow is on!
Adventures in Lalaloopsy Land: The Search for Pillow
is a magical adventure full of fun and friendship and a wonderful gift for any young girl.
And to celebrate this special launch, a limited edition of the DVD is also available as an exclusive toy-pack which includes a double-sided colouring poster and your very own Pillow Lalaloopsy Doll! RRP £15.99
ADVENTURES IN LALALOOPSY LAND: THE SEARCH FOR PILLOW
DVD Technical Details:
Certificate: U
RRP: Single DVD £15.99 / Doll & Poster DVD Pack £15.99
Audio: Dolby Digital 5.1 Surround
Run Time: 73mins approx.
Special Features: 5 x cute new mini webisodes
NOTE TO EDITORS:
Lionsgate has acquired the UK home entertainment distribution rights to
Lalaloopsy
one of the hottest toy properties in the marketafter entering into an agreement with leading consumer entertainment products company, MGA Entertainment. Since hitting the market in late 2010, the cute and magical
Lalaloopsy
dolls have captivated imaginations in a way that hasn't been seen since the introduction of Cabbage Patch Kids in the 1980s. The announcement of Lionsgate's entry into this whimsical world comes soon after the property dominated all wish lists during the Christmas shopping season. Called "This year's Tickle Me Elmo" by MSNBC and "the 'IT' doll for the holidays" by the Today Show, the
Lalaloopsy
dolls were featured in every major retailers hot toy list including Amazon.com, Toys R Us, Time To Play, toys.com and many more.
Lalaloopsy
are collectible, magical dolls that come to life when the very last stitch of their clothing is sewn. Each character has her own extra-cute pet and a background story based on the fabrics used in her fashion. The
Lalaloopsy
line is truly magnificent and includes imaginative playsets, large dolls and accessories, fashion packs, a multitude of miniature collectibles and carrying cases.
Adventures in Lalaloopsy Land: The Search for Pillow
is the first DVD release from this magical brand in the UK.