Season 2 of The Equalizer with Edward Woodward comes to DVD in March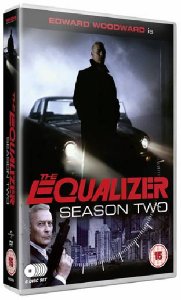 Fabulous Films are
proud to announce
THE EQUALIZER
:
SEASON 2
Available to own on DVD from
26th March 2012
'Gotta problem? Odds against you?
Call The Equalizer'.
Starring Golden Globe® Winner Edward Woodward as The Equalizer. Boasting an amazing array of famous guest stars such as Christian Slater, Kevin Spacey, William H Macy, Quentin Crisp and Ashford & Simpson.
All 4 seasons of this classic series were broadcast on UK TV between 1985-1989
SYNOPSIS
Your life or the life of a loved one is in danger and you don't know where to turn for help anymore. Then your eyes catch a small newspaper ad: "Gotta problem? Odds against you? Call the Equalizer." You call the number and a friendly, reassuring voice tells you where to meet him. Robert McCall, (Edward Woodward) is The Equalizer and he promises to even out the odds, in your favour.
Original music score by Stewart Copeland from legendary rock group The Police.
DVD CONTENTS
All 22 Episodes
16 Page full colour season Booklet
Stills and Bio Galleries
DVD SPECIFICATIONS
· Running time: 1320mins
· RRP Price: £39.99
· Certificate: 15
· Discs : 6
· Catalogue Number: FHED2894
The Equalizer Season 2
is distributed by Fabulous Films and is available from all good DVD stockists from the 26th March 2012.