The Invisible Man - Complete Series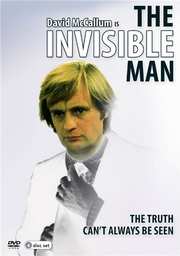 The truth can't always be seen...
Certificate: 12
Running Time: 631 Mins
Retail Price: £32.99
Release Date: 8/07/2013
Content Type: TV Series
Synopsis:
Starring David McCallum, hot off his cult-starring role in the TV classic The Man from Uncle,
this hit 1970s series launched with a feature length pilot followed by twelve exciting episodes,
all of which are featured here.

McCallum is Daniel Westin, an employee of the Klae Corporation working on experiments in
molecular disintegration with his wife Kate (Melinda Fee). When Westin discovers a method of rendering animals and then himself invisible, the threat of this discovery's abuse leads him to destroy the equipment, becoming permanently invisible in the process. While Westin seeks
to restore his visibility, he is assigned the codename Klae Resource and is put out to tender for highly secret, specialised missions.

From uncovering corruption in a small town to exposing political hijinks on a national scale;
from saving defecting scientists to protecting aging dictators undercover; from rescuing kidnap victims to uncovering crime at the heart of the Klae Corporation, these are the adventures of the Klae Resource, a.k.a The Invisible Man.
Special Features:
Cast Filmographies
Picture Gallery

Video Tracks:
1.33:1 Colour

Audio Tracks:
Mono

Directed By:
Alan J. Levi
(6 episodes, 1975-1976)
Sigmund Neufeld Jr.
(3 episodes, 1975)
Robert Michael Lewis
(2 episodes, 1975)

Written By:
H.G. Wells (original book)
Harve Bennett
(11 episodes, 1975)
Steven Bochco
(11 episodes, 1975)
James D. Parriott
(4 episodes, 1975-1976)
Leslie Stevens
(3 episodes, 1975-1976)
Seeleg Lester
(2 episodes, 1975)

Starring:
David McCallum, Melinda O. Fee & Craig Stevens

Music From:
Pete Rugolo
(6 episodes, 1975)
Henry Mancini
(3 episodes, 1975)

Director of Photography:
Enzo A. Martinelli
(11 episodes, 1975)

Producer:
Harve Bennett
executive producer (11 episodes, 1975)
Robert F. O'Neill
producer (3 episodes, 1975)

Distributor:
Acorn Media