Canaan - Complete Collection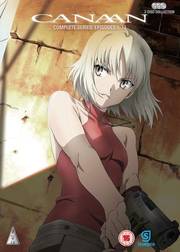 Colors have scent. Sounds possess images
Certificate: 15
Running Time: 302 mins
Retail Price: £29.99
Release Date: 15
Content Type: TV Series
Synopsis:
UA: Experimental virus thought to be developed by the CIA, its name taken from the Swahili word for "kill" and "flower". Exposure usually results in death within 12 hours. There is no known cure. Survivors of the virus are known as Borners and are left with permanent patterns on the skin.

Canaan is a war orphan raised by an ex-mercenary named Sham. Gifted with a rare 6th sense, Canaan's life is set for revenge when Sham is murdered by the leader of a bio-terrorism organisation known as Snake, who have claimed responsibility for UA attacks.

Close to obtaining the only known anti-virus to UA and wishing to profit from it, Snake's only obstacle is a woman known as Canaan...

An explosive anime thriller set in the marketplaces and remote countryside of China, Canaan is an incendiary conspiracy story directed by Masahiro Ando (Full Metal Alchemist and Cowboy Bebop).
Special Features:
Textless Credits
Trailers

Video Tracks:
1.78:1 anamorphic widescreen

Audio Tracks:
Dolby Digital 5.1 Surround English
Dolby Digital 2.0 Stereo Japanese

Subtitle Tracks:
English

Directed By:
Masahiro Ando

Written By:
Mari Okada

Starring:
Maaya Sakamoto
Miyuki Sawashiro
Akio Ohtsuka
Haruka Tomatsu
Hiroaki Hirata
Junko Minagawa
Kenji Hamada
Mamiko Noto
Rie Tanaka
Toru Ohkawa
Yoshino Nanjou
Lesley Pedersen
Shelley Calene-Black
Andrew Love
Andy McAvin
David Matranga
Emily Neves
Hilary Haag
Jessica Boone
Kaytha Coker
Leraldo Anzaldua
Serena Varghese

Music From:
Hikaru Nanase

Director of Photography:
Satoshi Namiki

Editor:
Ayumi Takahashi

Producer:
Jin Kawamura
Jiro Ishii
Kei Fukura
Kenji Horikawa
Shigeru Saito
Takayuki Mizutani
Yasushi Oshima

Executive Producer:
Hisato Usui
Kazuyoshi Fukuba
Koichi Nakamura
Kouji Morimoto
Naohiro Futono
Seiji Yabe
Takaaki Kidani
Takanori Aki
Toyoki Oota
Yoshiyuki Ito

Distributor:
MVM