13 (Thirteen)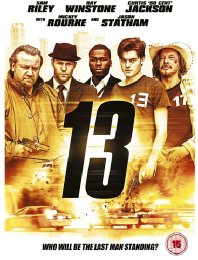 Certificate: 15
Running Time: 86 Mins
Retail Price: £10.00
Release Date: 08/10/2012
Content Type: Movie
Synopsis:
Jason Statham, Sam Riley (Control), Ray Winstone (Indiana Jones & The Kingdom of the Crystal Skull), Curtis "50 Cent" Jackson and Academy Award nominee Mickey Rourke star in this intense thriller about the underground 'sport' of Russian roulette.

It is fiercely organized and ferociously secret. It attracts depraved gamblers and desperate men. And tonight, one naive young player will mistakenly become a numbered participant in a deadly world of power, violence and chance where the ultimate bets are decided by a squeeze of the trigger. The stakes are high, but the payout is more than he can resist.

Emmanuelle Chriqui ("Entourage"), Michael Shannon ("Boardwalk Empire"), Alexander Skarsgård ("True Blood"), David Zayas ("Dexter") and Ben Gazzara (Road House) co-star in writer/director Géla Babluani's white-knuckle American remake of his 13 TZAMETI, the film that swept Europe, shocked Sundance and now translates as one of the most extreme edge-of-your-seat thrillers of the year.
Special Features:
Trailer

Related Websites:
http://www.anchorbay.co.uk/dvd/dvd.php?CO=ABD1068

Directed By:
Géla Babluani

Starring:
Jason Statham, Sam Riley, Alice Barrett, Gaby Hoffmann, Stephen Beach, Mickey Rourke, Michael Berry Jr., Michael Shannon, Mike D'Onofrio, Starla Benford, Ray Winstone, Daisy Tahan, Carlos Reig-Plaza, Forrest Griffin, Ed Bergtold