Review for Sin Nombre (2009) - (DVD)
Set against the relentless backdrop of modern Mexico and grounded in political reality, Sin Nombre (2009) not only illustrates the bloody consequences of gang culture but also the struggles faced by those who seek the opportunity of a better lifestyle across the border. For those who enjoy consuming films which have uplifting messages and a "feel good" factor attached to them, I would perhaps steer well away from this film. Sin Nombre offers a stark, poignant, but more importantly, truthful commentary on the social ills of contemporary Mexico.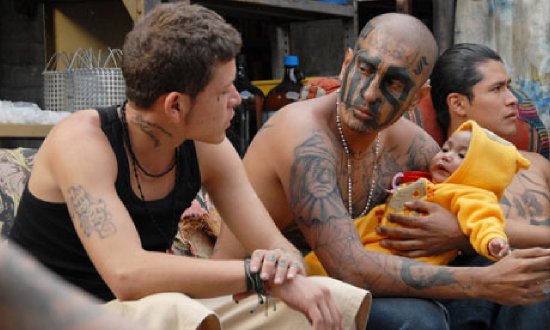 In this Spanish-language film, gangs are depicted as being like packs of bloodthirsty wolves; unrelenting and barbarous. The brutal nature of the gang, the film's protagonist, Casper belongs to is highlighted from the film's outset, when the young and untainted Smiley (Kristian Ferrer) is hurled to the ground and subsequently battered by the members of
La Mara Salvatrucha 
(name of the gang), whilst the gang's leader, Lil Mago (Tenoch Huerta Mejia) counts to thirteen in Spanish. After the violence ceases, Lil Mago embraces Smiley and kisses his forehead, as the first part of his formal, but visibly brutal, initiation into the gang is complete. Smiley then smiles (this is presumably how he gets his name, "Smiley"), knowing he has taken one step towards becoming a "real man". Shortly after, Smiley executes a rival gang-member, with the help of Casper, to complete his initiation into the gang.
Throughout the film, there are numerous scenes which show the merciless temperament of gang members, as they uphold a subcultural moral code in order to prove their conformance and loyalty to the gang's cause. Much like other films which focus on mob culture, such as
City of God (2002), City of Men (2007), Tsotsi (2005)
et al, one of the predominant underlying and undeniably powerful messages evident is that violence only, in the end, begets violence.
Casper is shackled to
La Mara Salvatrucha
, and he acknowledges that the only way he can leave behind the barbaric lifestyle is, sadly, through death. Once he swipes the throat of Lil Mago with a machete, it is inevitable that he will be hunted down by members of the gang who will murder him to avenge for the loss of their leader.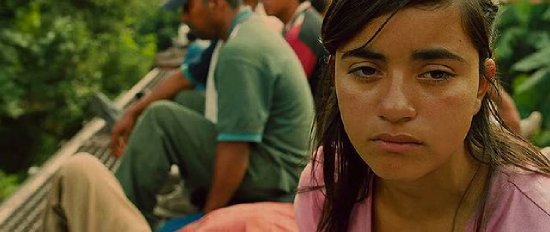 What is also interesting, and equally important, in
Sin Nombre
, is the depiction of illegal immigrants who wait patiently before stowing away on passing trains that head towards America, which as we learn in due course, is a dangerous practice. These immigrants, who include Sayra and her father, essentially attempt to leave Mexico to escape from its social ills. As the film shows, there appears to be a lack of opportunity for these people, as well as the chance to live a decent life, in a harsh social milieu governed by the powerful gangs. The clear lack of state law in the film (apart from the U.S Border Control) strengthens the notion that the marauding gangs have significant authority within contemporary Mexico.
The direction in general is effective and Fukunaga does well to present an unforgettable image of a harsh and fruitless contemporary Mexico. Moreover, 
Sin Nombre 
not only feels like a localised gangster film, but also a coming-of-age drama, thriller, road-movie and adventure film all heaped into one. It is almost certainly guaranteed that once you have started watching the film, you will be both gripped and perhaps shocked by some of the incidents which unfold within the film's narrative, which ultimately reminds us of the cruel world in which the characters exist.
Video
This DVD presentation of
Sin Nombre
, by Revolver Entertainment, features a clean anamorphic 2.35 : 1 transfer (original ratio preserved). I could hardly fault the standard of the visual presentation, and was impressed by the clarity of minute details and vibrant colour palette.
Audio
The Spanish (original language) 5.1 audio mix is clear and effective. However, your 5.1 setup probably won't get the same workout as it would with some other titles. There are also English subtitles.
Extras
Featured on the disc is an insightful audio commentary by both director, Fukunaga, and also producer, Amy Kaufman. Moreover, there are fourteen deleted scenes which have an approximate runtime of 10 minutes. It is a pity that these deleted scenes cannot be viewed separately, but nonetheless, they shed some light into elements of the story, which were ultimately omitted from the final cut of
Sin Nombre
.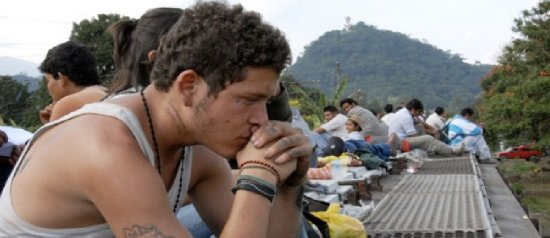 Overall


Sin Nombre
is a very good, but hauntingly poignant film which focuses on Mexican gang culture and also the stark problems faced by immigrants as they seek to cross the border in search of a better life. Its strength lies in the visual depiction of contemporary Mexico and the narrative's underlying themes of betrayal, revenge, escape et al.
Revolver Entertainment's DVD is presented well, with video and audio quality being nothing short of great, and also included are two very informative special features. Also available on Blu-ray, the region 2
Sin Nombre
DVD is currently available for under £4. If you ask me, it is a small price to pay for a powerful and moving American-Mexican co-production.