Leon: 20th Anniversary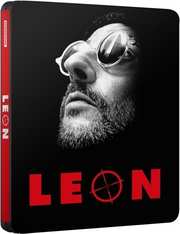 Certificate: 18
Running Time: 111/113 Mins
Retail Price: £29.99
Release Date: 03/02/2014
Content Type: Movie
Synopsis:
Jean Reno, Gary Oldman, Danny Aillo and Natalie Portman in her film debut, all star in this highly influential, seminal 90s action/thriller. Leon is the controversial and unforgettable story of an unlikely friendship within a brutal and violent world.

Twelve-year-old Mathilda lives within the desperate confines of a squalid New York apartment block. On returning from a shopping trip Mathilda finds that her abusive, dysfunctional family (and her beloved younger brother) have been slaughtered by a psychotic, drug dealing police officer. In fear of her life she takes refuge with her reluctant, mysterious and solitary neighbour. His name his Leon and he's one of the world's deadliest assassins. And while Mathilda begins to teach him how to live, Leon begins to teach her how to kill.
Special Features:
Directors Cut
Theatrical Cut
Interview with Jean Reno
Interview with Eric Serra

Related Websites:
http://www.studiocanal.co.uk/AtHome

Directed By:
Luc Besson

Written By:
Luc Besson

Starring:
Jean Reno, Gary Oldman, Natalie Portman.