DEADMEAT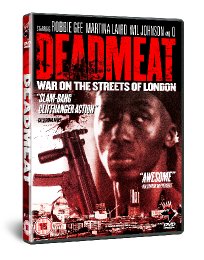 Released on DVD 07 March 2011
Certificate: 15
Running Time: 80 mins
Retail Price: from £8.99
Release Date: 07/03/2011
Content Type: Movie
Synopsis:
DEADMEAT, based on the cult novel of the same name, is the critically-acclaimed, highly-anticipated, gritty Urban thriller taking London's underground scene by storm as it arrives on DVD on 7 March 2011.

Winner of Hollywood's Accolade Award for Excellence, DEADMEAT explores London gangland's dark underbelly in a chilling tale of revenge killings and betrayal. The sharply-written Brit-Flick boasts the cream of the UK's Urban talent, including: Wil Johnson (In Another World which has just won The Golden Globe for Best Foreign Film Award, Waking the Dead, Adulthood, Anuvahood), Robbie Gee (Snatch, Mean Machine, Shank), Martina Laird (Casualty, Holby City, Shameless), Clare Perkins (Bullet Boy, Football Factory, Pig Heart Boy), Brian Bovell (The Bill, Gimme Gimme Gimme, Hollyoaks) and Roger Griffiths (Dubplate Drama, Holby City, Vexed).

Award-winning writer, director and producer 'Q' steers action-buster DEADMEAT through the gripping story of ex-con Clarkie ('Q') who learns on his release from prison he's been set up by his brother Bones (Bovell). Within a week, Bones is found hanging, the suspected victim of a notorious cyber-vigilante who hunts down paedophiles online.


Still smarting from Bones' betrayal, Clarkie refuses to accept the police's paedophile verdict on his brother, setting in motion a series of shocking events. As Clarkie sets out to solve the crime and quickly discovers that a price has been put on his head, who can he trust? Was his brother framed? Will the cyber-vigilante strike again? And can Clarkie survive a turf war with coppers on his trail? One wrong turn and he's DEADMEAT.

Winner of Black Filmmaker's Best British Feature, DEADMEAT is a must have for your DVD collection, released 07 March 2011.
Special Features:


Related Websites:
http://www.deadmeat.com/

Directed By:
Q

Written By:
Q

Starring:
Q, Robbie Gee, Wil Johnson, Martina Laird, Clare Perkins, Brian Bovell, Roger Griffiths