The Pacific: Hell on Earth (The History Channel)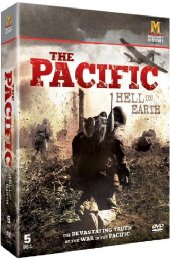 Certificate: Exempt
Running Time: 404 minutes
Retail Price: £19.99
Release Date: 18/10/10
Content Type: TV Series
Synopsis:
The devastating truth of the war in the Pacific

Individual stories of heroism and courage are explored in the exact spots where the Pacific theatre of war took place, as young soldiers took on the seemingly invincible and increasingly desperate Japanese army in a series of bitter and hard-fought battles.

From Pearl Harbor, Guadalcanal, Tarawa and Saipan to Guam, Leyte, Okinawa and Iwo Jima, using rare archival footage, cutting-edge CGI and interviews with the soldiers who survived, the stories of some of WWII's most ferocious attacks, climactic battles and ultimate victories vividly come to life.
Special Features:
Bonus Disc: Sledgehammer Old Breed Marine: The true story of Private Eugene B. Sledge, U.S. Marine Corps.