The Raggy Dolls: Series One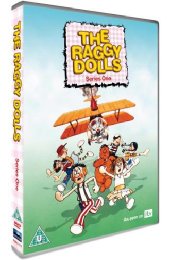 Certificate: U
Running Time: 144 Mins
Retail Price: £9.99
Release Date: 21/06/2010
Content Type: TV Series
Synopsis:
It's not much of a life when you're just a pretty face
Just to be whoever you are is no disgrace
Don't be scared if you don't fit in
Look who's in the reject bin!

It's the Raggy Dolls, Raggy Dolls
Dolls like you and me
Raggy Dolls, Raggy Dolls
Made imperfectly.

This classic 80s cartoon series, The Raggy Dolls, comes to DVD for the very first time.

Join Back-To-Front, Sad Sack and the rest of the discarded dolls from Mr Grimes' Toy Factory who have been cast aside to the reject bin as a result of their different manufacturing faults. Here, when no one is looking, these special toys come to life, embarking on a series of adventures where their differences are overcome and their so-called disabilities put to good use.
Special Features:
Bouncing Ball Sing A Long (Opening & Closing Themes)
Character Profiles - Meet The Raggy Dolls

Related Websites:
http://www.revfilms.co.uk/

Distributor:
Revelation Films Ltd