The Descent: Part 2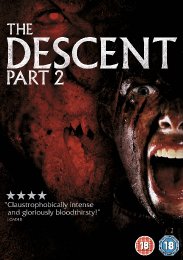 Revenge Runs Deep
Certificate: 18
Running Time: 90
Retail Price: £19.99
Release Date: 12/04/2010
Content Type: Movie
Synopsis:
Beginning just moments after The Descent's conclusion, The Descent: Part 2 continues the story of Sarah (Shauna Macdonald), the only survivor of a caving expedition gone horrifically wrong. Bruised and bloodied and suffering from severe psychological trauma, Sarah is forced back to the cave in search of survivors.....

Sarah emerges terrified and alone from the depths of a claustrophobic cave system in the Appalachian Mountains where she spent days in darkness fighting for survival after the horrific deaths of her five friends. Distraught, injured and covered in the blood of her missing companions, Sarah is incoherent and under suspicion by the local authorities.

Sceptical about Sarah's account of events and convinced her psychosis hides far darker secrets; Sheriff Vaines (Gavin O' Herlihy) forces her back into the caves to help locate the rest of the group.

Trapped by falling rocks, the rescue party are driven deep into the caverns, and as one by one the fate of the missing girls is revealed, Sarah is forced to confront her deepest fears.
Special Features:
 Commentary by Jon Harris, Shauna Macdonald, Krysten
Cummings and Anna Skellern
 Making of Programme
 Deleted Scenes with option commentary by Jon Harris
 Storyboard Galleries
 Production Design Gallery
 Theatrical Trailer

Video Tracks:
Anamorphic Widescreen 2.35:1

Audio Tracks:
Dolby Digital 5.1 Surround English

Subtitle Tracks:
English HoH

Directed By:
Jon Harris

Written By:
J Blakeson
James McCarthy
James Watkins

Starring:
Michael J. Reynolds
Shauna Macdonald
Jessika Williams
Douglas Hodge
Joshua Dallas
Anna Skellern
Gavan O'Herlihy
Krysten Cummings
Doug Ballard
Josh Cole
Saskia Mulder
Natalie Jackson Mendoza
Alex Reid
Nora-Jane Noone
MyAnna Buring

Casting By:
Gail Stevens

Soundtrack By:
David Julyan

Director of Photography:
Sam McCurdy

Editor:
Jon Harris

Costume Designer:
Nancy Thompson

Production Designer:
Simon Bowles

Producer:
Christian Colson
Ivana Mackinnon

Executive Producer:
Neil Marshall
Paul Smith

Distributor:
Pathe!
Celador Films