Dead Girl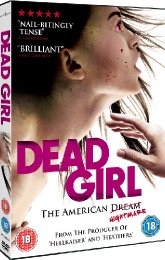 The American Nightmare
Certificate: 18
Running Time: 95
Retail Price: £19.99
Release Date: 08/06/2009
Content Type: Movie
Synopsis:
Daring, original and utterly genre-busting, DEAD GIRL is a terrifying journey to the dark heart of the American high school generation. Fantastical, frenzied and darkly hilarious, this is a horror movie, a high school comedy and a coming-of-age movie all turned on their sick and twisted heads.

When teenage misfits Rickie and JT cut school one day, they find themselves in the derelict remains of an abandoned hospital. The gruesome, unnerving discovery they make in the bowels of the facility will test the very limits of their sanity: a woman, naked, chained and covered in plastic. She's abandoned, she's beautiful, she's dead...or is she?

What follows is a warped odyssey that forces this pair of outcasts, their high-school tormentors and adolescent crushes to all decide just how far they're willing to stretch their understanding of what is right and what is very, very wrong.

From the producer of the seminal Hellraiser and the legendary Heathers, DEAD GIRL is a new genre classic and a no-holds-barred look at the horror of growing up. Starring Shiloh Fernandez (The United States Of Tara), Noah Segan (Brick), Michael Bowen (Kill Bill), and Candice Accola (Juno).
Special Features:
• Commentary with cast and crew
• Behind The Scenes
• Make-Up Effects gallery
• Trailer

Video Tracks:
Anamorphic Widescreen 2.35:1

Audio Tracks:
Dolby Digital 5.1 Surround English
Dolby Digital 2.0 Stereo English

Directed By:
Marcel Sarmiento
Gadi Harel

Written By:
Trent Haaga

Starring:
Shiloh Fernandez
Noah Segan
Michael Bowen
Candice Accola
Andrew DiPalma
Eric Podnar
Nolan Gerard Funk
Christina Blevins
Kelle Cantwell
Shushig DerStepanian
David Alan Graf
Dustin Hess
Susan Marie Keller
Christina Masterson
Casey Morgan
Timothy Muskatell
Jenny Spain
Dawson Van Pelt
Luke Van Pelt
Jessica Lynn Wilson
Crystal Young

Casting By:
Matthew Lessall
Lynn Reinstein

Soundtrack By:
Joseph Bauer

Director of Photography:
Harris Charalambous

Editor:
Phillip Blackford

Costume Designer:
Lynn Haaga

Production Designer:
Diana Zeng

Producer:
Gadi Harel
Marcel Sarmiento

Executive Producer:
Gadi Harel
Rob Hickman
Marcel Sarmiento
Christopher Webster

Distributor:
Metrodome