Stranger to Stranger: Deluxe Edition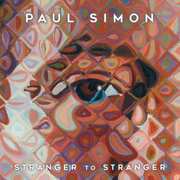 Main Artist:
About this CD:
Paul Simon's Stranger to Stranger is his 13th solo album and another rebirth of a musical legend who started in the 1960s with Simon and Garfunkel and went on to be a successful solo artist and one of the greatest song writers of this generation.

The record—his first since 2011's acclaimed So Beautiful or So What—ushers the listener into a brave new musical world where expectations are defied and exceeded, as they were thirty years ago with another masterwork, Graceland.

The Deluxe Edition features an additional five songs including his duet with Dion New York is My Home.
Running Time: 53:28
Retail Price: £11.99
Release Date: 03/06/2016

Related Websites:
http://www.paulsimon.com/

Track Listing:
1. The Werewolf
2. Wristband
3. The Clock
4. Street Angel
5. Stranger to Stranger
6. In a Parade
7. Proof of Love
8. In the Garden of Edie
9. The Riverbank
10. Cool Papa Bell
11. Insomniac's Lullaby
12. Horace and Pete
13. Duncan (Live from A Prairie Home Companion February 2016)
14. Wristband (Live from A Prairie Home Companion February 2016)
15. Guitar Piece 3
16. New York is My Home (With Dion)

Performers:
Paul Simon

Writers:
Paul Simon
Dion DiMucci

Producers:
Paul Simon
Roy Halee
Andy Smith