Seven Psalms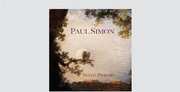 Main Artist: Paul Simon
About this CD:
Paul Simon's musical work Seven Psalms is intended to be listened to as one continuous piece.

The 33-minute, seven-movement composition transcends the concept of the "album." Recorded entirely on acoustic instruments, and predominantly performed by Paul, Seven Psalms showcases his craft at its finest and most captivating, simply with his voice and guitar.
Running Time: 33:02
Retail Price: £10.00
Release Date: 19/05/2023

Related Websites:
https://www.paulsimon.com/music/seven-psalms/

Track Listing:
1. "Seven Psalms"
2. "Love Is Like A Braid"
3. "My Professional Opinion.
4. "Your Forgiveness"
5. "Trail of Volcanoes"
6. "The Sacred Harp"
7. "Wait"

Performers:
Paul Simon, Wynton Marsalis, Edie Brickell

Writers:
Paul Simon

Producers:
Paul Simon, Kyle Crusham