Randall and Hopkirk (Deceased): Original Soundtrack Selections - 180g Vinyl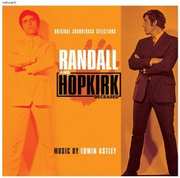 Main Artist: ITC Soundtrack
About this CD:
Featuring new transfers from original analogue tape elements, mastering/vinyl cutting by Ray Staff (one of the best audio engineers in the world) and high quality pressing by the renowned Pallas pressing plant in Germany, this range of audiophile-level albums is presented on 180g virgin vinyl and gives superb sound reproduction.

Working from a shabby suite of offices in Central London, Jeff Randall and Marty Hopkirk are two private detectives with a twist - one of them's a ghost! With both theme and incidental music supplied by the versatile Edwin Astley, he returns here to the harpsichord - an instrument he had previously employed to great effect in the theme for the hour-long Danger Man series.

Astley furnished Randall & Hopkirk (Deceased) with a minor key main title theme, the lead instrument intoning a plaintive melody over an upbeat, rhythmic brass section - perfectly matching the series' balance of drama and humour. The harpsichord recurs throughout the incidental cues, as well as providing a memorable 'sting' whenever the ghostly Marty pops in and out of the action.
Running Time: 45m approx.
Retail Price: £25.00
Release Date: 28/10/2013

Related Websites:
http://networkonair.com/shop/1849-randall-and-hopkirk-deceased-original-soundtrack-selections-5027626903336.html#sthash.EbOyUyc2.dpuf

Track Listing:
Side One1 Main Title2 My Late Lamented Friend And Partner3 But What A Sweet Little Room4 For The Girl Who Has EverythingSide Two1 Who Killed Cock Robin?2 The Smile Behind The Veil3 All Work And No Pay4 Money To Burn5 Just For The Record6 Murder Ain't What It Used To Be7 End Title