LA FOLIE D'AMOUR – THE XAVIER DOLAN COLLECTION (15) set for DVD release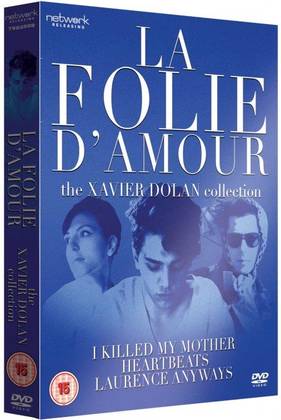 FOR the first time, Xavier Dolan's three feature films will be available to own together in the exclusive boxest

La Folie D'Amour – The Xavier Dolan Collection

(15), courtesy of Network. This package will include Xavier's debut feature length film, the award-winning

I Killed My Mother

(2009), stylish

Heartbeats

(2010) and last year's epic love story

Laurence Anyways

(2012).

La Folie D'Amour – The Xavier Dolan Collection

will be available to own from 25 March 2013, RRP £29.99.

Laurence Anyways

will also be available to buy separately from 25 March, RRP £15.99.
I KILLED MY MOTHER (15)
Dolan announced his arrival as a hugely talented writer, actor and director with this complex, turbulent expose of the relationship between a mother and her son. TeenagerHubert is torn between his affection and contempt for his single mum and herways. Amidst the shadow of his love/hate feelings for his parents and theirways, he is also discovering the mysteries of adolescence and his own sexuality. The strong passion between the mother and son unfolds as a compelling combination of savage fury and melting affection.
Xavier Dolan's astounding debut received an 8-minute standing ovation when it premiered inCannes 2009, it has also won various awards including Cannes Directors' Fortnight and International Confederation of Art Cinema award.
HEARTBEATS (15)
"Jules et Jim" meets "The Dreamers" in the follow-up to Dolan's directorial debut
I Killed My Mother
explores the complex relationship between three hip French Canadian teenagers. Francis (Xavier Dolan) and Marie (Monia Chokri) are close friends. The tight bond that they take comfortably for granted is severely tested when during lunch one day, they meet Nicolas (Niels Schneider), a new arrival in town from the country. As a beautiful young man, Nicolas becomes the object of desire for both Francis and Marie. As they slide further into their obsessive fantasies, the trusted friendship between Francis and Marie begins to crack under the pressure of competing for the affection of the new kid on the block.
In turns humorous, profound and seductive,
Heartbeats
further cements Xavier Dolan's standing as a young, gifted auteur.
LAURENCE ANYWAYS (15)
Starring Melvil Poupaud as Laurence (
A Summer's Tale
) and Suzanne Clement as (I Killed My Mother) as Laurence's supporting girlfriend, Fred, in this touching story which chronicles the relationship between a man and a woman through the 1990s, in which time Laurence undergoes a gender change and their lives change, but can their love survive the journey?
Suzanne picked up a 'Best Actress' award in the Certain Regard category for her role, and the film also won the Queer Palm at Cannes Film Festival 2012.
Release Date: 25/03/13
RRP: £29.99 (DVD Box Set) £15.99 (Lawrence Anyways
DVD)